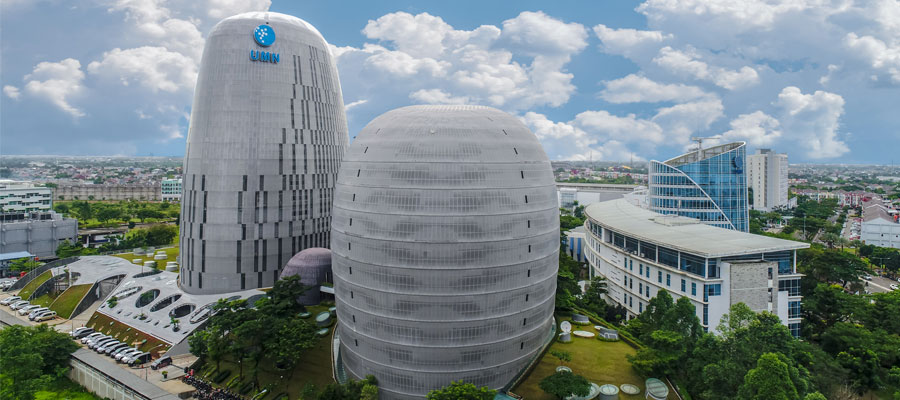 The UMN Campus. (Doc. UMN)
Multimedia Nusantara University (UMN) is one of the best universities in Tangerang. Established in 2005, this university with a unique building is accredited "A" and has received plenty of achievements. Are you curious about the kinds of majors at UMN? Here's the complete list of majors and study programs of UMN.
Faculty of Engineering & Informatics
1. Informatics (Bachelor's Degree)
The UMN Informatics study program focuses its studies on Artificial Intelligence, Soft Engineering, and Cyber ​​Security. Students will be equipped with in-depth knowledge of the world of informatics from lecturers who are experts in their fields.
2. Computer Engineering (Bachelor's Degree)
The scope of the UMN Computer Engineering curriculum is broader than that of Computer Engineering at other universities. The UMN Computer Engineering study program equips students with software and programming knowledge in both web and mobile forms. Not only that, but students will also learn about Cloud, Network and Security, and Hardware.
3. Electrical Engineering (Bachelor's Degree)
The UMN Electrical Engineering program focuses on industrial automation, where industrial automation helps to carry out production processes that cannot be handled by humans through the application of mechanical, electronic, and computer-based systems so that the control processes will be carried out using machines. UMN encourages students to develop automation industries that will make human lives easier.
4. Engineering Physics (Bachelor's Degree)
Through this study program, students will learn about the application of physics when using and utilizing energy in everyday life. The Engineering Physics department of UMN is a member of several associations in the field of physics engineering, such as the Physical Engineering Vocational Body (Indonesian Engineers Association), the Indonesian Physics Engineering Cooperation Agency, and the Institute of Electrical and Electronics Engineers. Together with these associations, the Physical Engineering department of UMN is involved in discussions related to professional development, certification, and curriculum, as well as the publication of papers in the field of physical engineering.
5. Information System (Bachelor's Degree)
Students will learn how to create and build a system that companies can use when managing a business. The focus of the UMN Information System is Big Data so that UMN graduates can become Big Data Specialists, IT Governance Specialists, Enterprise Resource Planning Specialists, and Database Specialists. Students will also have the opportunity to receive two international certifications, namely data visualization and data modelling certificates which will be very useful for students in their professional work lives in the future.
6. Joint Degree – Informatics Program (Bachelor's Degree)
UMN also has a joint degree program with Swinburne University of Technology, Melbourne. Graduates of the joint degree will receive a Bachelor of Computer (S.Kom) degree from UMN and a Bachelor of ICT (BICT) from Swinburne University of Technology (SUT). Graduates of this program will have the technical ability to design and create mobile applications, analyze and design databases, handle information system risk and security, and analyze business information systems.
Also Read: UMN Holds International ICT Conference Raising Awareness on Technologies for Sustainable Development
Faculty of Business
1. Hospitality (Associate Degree)
Students will learn various things related to service and hospitality, ranging from Front Office, Housekeeping, Laundry, Food and Beverage Production, Food and Beverage Service, to Pastry and Bakery. Students will understand how the hospitality industry works through this study program.
In addition, UMN also equips students with knowledge about Business Management and Entrepreneurship, also Service Marketing and Ecommerce to support their hard skills in the field of service and hospitality. All these courses will equip students to work in the hospitality world and allow them to become entrepreneurs by creating their businesses.
2. Accounting (Bachelor's Degree)
UMN accounting students will learn about managing a company's finance which is realized by preparing financial reports. They will learn how to analyze and examine financial reports for both internal (management reports) and external (corporate reports) purposes. In addition, students will also learn about taxation related to financial statements.
3. Management (Bachelor's Degree) 
The UMN Management study program prepares prospective young professional managers and technopreneurs to face the rapid development of the industry in Indonesia and the world, which is heavily influenced by advances in technology, information and communication (ICT). UMN presents an up-to-date lecture curriculum with existing industry developments to hone students' hard skills and introduce the industry directly from an early age to students through Executive Sharing, Plant Visits, and Business Visits.
4. Master in Technology Management (Master's Degree)
MMT UMN is the only MMT study program in Indonesia that emphasizes the aspects of innovation and the latest technology in management combined with entrepreneurial aspects. MMT UMN graduates can become Business Development Executives, Digital Transformation Specialists, Technopreneurs, Technology Innovators, and Technology Strategists.
Also Read: MMT UMN Wins Three Silver Medals at the International Sustainability Business Event
Faculty of Communication
1. Strategic Communication (Bachelor's Degree)
As part of the Faculty of Communication, the Strategic Communication study program does not only study the communication between two people. Still, it focuses on communications carried out by a company or brand. UMN also has programs for students who want to study and earn degrees online with the UMN Strategic Communication – Digital Learning (DL) program. The DL program conducts the lectures digitally through E-learning, allowing students to be able to study anywhere and anytime.
2. Journalism (Bachelor's Degree)
Students in the Journalism study program will learn all forms of journalism (whether in written, audio, visual or audio-visual form) starting from the planning, production, dissemination/publication process to monitoring content on social media. UMN is under one of the biggest media industries in Indonesia, Kompas, where students will be able to be taught by lecturers who are journalists themselves and also get the opportunity to conduct internships in Kompas Gramedia. In addition, UMN also has complete facilities like a news studio so students can experience how it feels to work in a news station.
3. Master of Communication Study (Master's Degree) 
The Master's of Communication Studies UMN combines scientific perspectives and practical perspectives to prepare graduates to explain and solve various kinds of strategic communication problems in the field of marketing communications and corporate communications. The Master of Communication Studies of UMN has two concentrations: "Digital Corporate Communication" and "Digital Marketing Communication."
Also Read: UMN Communication Studies Study Program Receives Accreditation A
Faculty of Art & Design
1. Visual Communication Design (Bachelor's Degree)
The Visual Communication Design program studies the application of art and design in communicating messages visually. Students will understand the application of art and design in creating solutions to problems that exist in society so that they can design communication through visuals in various media to create change for the world. This study program is one of the popular college majors at UMN!
2. Architecture (Bachelor's Degree)
The Architecture Study Program of UMN not only focuses on how to design an aesthetic space and building but also considers other aspects such as the use of natural resources, green building, and its impact on environmental sustainability. Students are equipped with knowledge of the latest technological developments, such as the use of software that has been widely used in the real industry to support students in architectural design.
at 
Students will learn technical matters such as creating stories, using cameras, compiling and editing images, and other skills that support good and quality filmmaking. UMN's Film Study Program is the only study program that combines film and animation into one study program. Even so, students can choose one of the two to be studied more deeply according to their respective interests.
Also Read: Release and Handover of UMN DKV Students Conducting Independent Learning Village Projects in Independent Campuses in Three Villages
That is a list of the majors in Multimedia Nusantara University. Is there any major that piqued your interest? If yes, please check the UMN website at umn.ac.id to find out more about the majors and how to register.
Source
*by Levina Chrestella Theodora | UMN News Service
Kuliah di Jakarta untuk jurusan program studi Informatika | Sistem Informasi | Teknik Komputer | Teknik Elektro | Teknik Fisika | Akuntansi | Manajemen| Komunikasi Strategis | Jurnalistik | Desain Komunikasi Visual | Film dan Animasi | Arsitektur | D3 Perhotelan | International Program, di Universitas Multimedia Nusantara. www.umn.ac.id