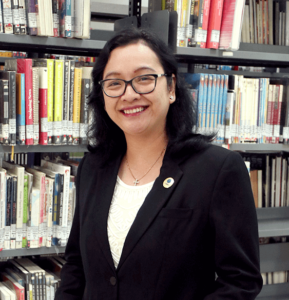 "…UMN not only educates its students to be ready to become professionals or research staff (academics), but also educates them to be ready to become entrepreneurs in the field of technology or called technopreneurs…"
Dr. Florentina Kurniasari T., S.Sos., M.B.A.
Dean of Business Faculty

The revolution of Information Communication Technology (ICT) has led to a rapid growth in the startup and e-commerce industry globally, resulting in an economic boost worldwide. UMN, aiming to become one of the leading universities in ICT, prepares its students not only to be ready to become professionals or academics but to become highly-competent entrepreneurs in the field of technology, also called technopreneurs.
UMN strives to produce superior entrepreneurs and technopreneurs with reliable competencies on a global scale, ready to face digital transformations in industry 5.0 and global business challenges. We also aim to develop business graduates that can positively impact the economy, environment, and society. UMN's Business Faculty offers four study programs: Diploma in Hospitality, Bachelor's Degree in Management, Bachelor's Degree in Accounting, and Master's Degree in Technology Management. UMN provides students with up-to-date curriculums aligned with international standards and provide real-life work experience.
For Registration, come and visit!
Kampus UMN , Scientia Garden
Jl. Boulevard Gading Serpong, Tangerang-Banten
Telp. (021) 5422 0808; Fax. (021) 5422 0800
e-mail: [email protected]