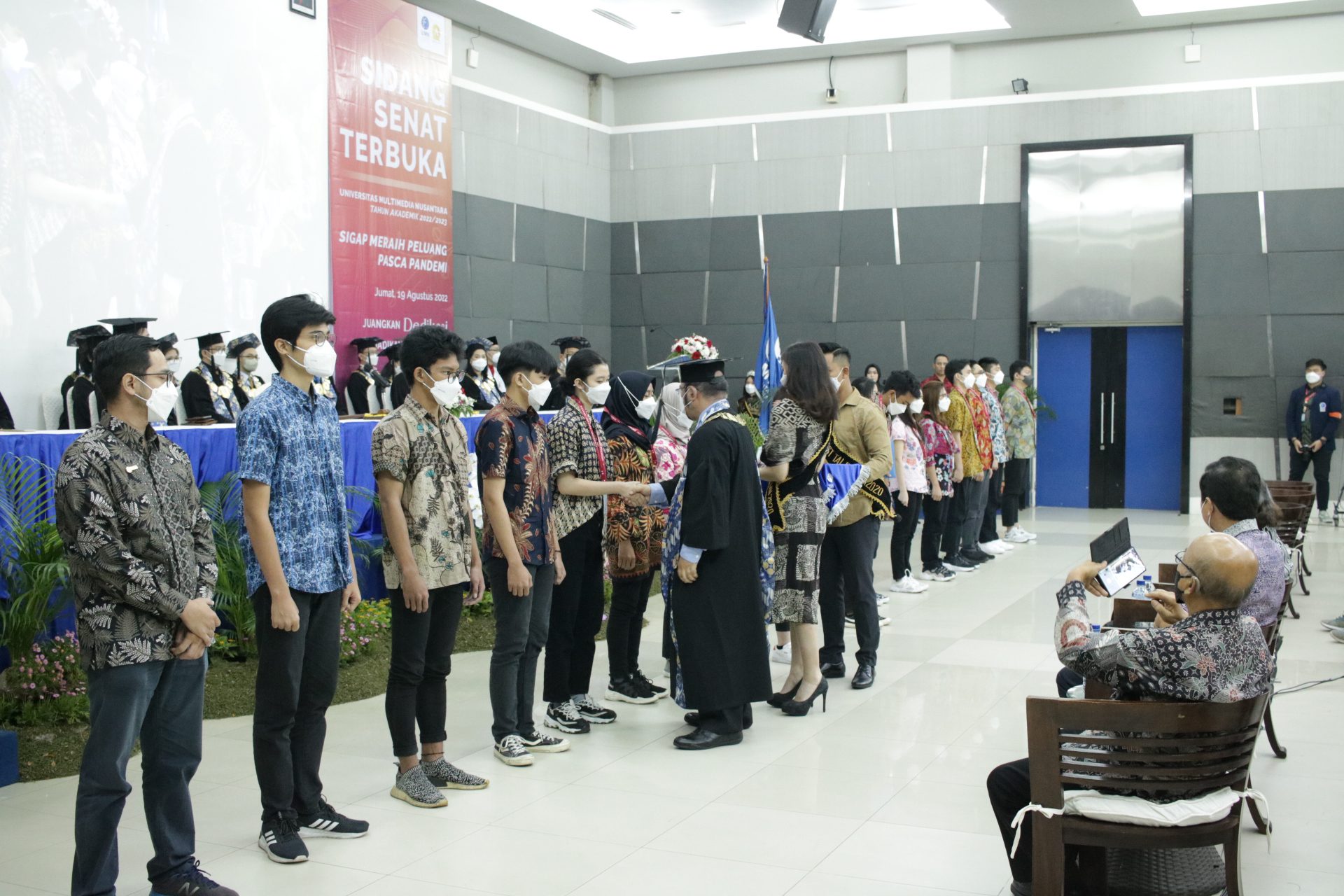 UMN Chancellor, Ninok Leksono, pinned the Student ID Cards to 16 new UMN students 2022 who were representatives of the study program. (doc. UMN)
Succeeding in the Post-pandemic era by Daring to Start a Business
Tangerang – In front of 500 new students' representatives, young entrepreneur, Daniel Hermansyah, shouted the slogan widely circulated in advertisements, "Just Start First." New students from Multimedia Nusantara University (UMN) took their inaugural lecture offline after more than two years of online classes on Friday (19/8/2022).
The CO-Founder & CEO of Kopi Chuseyo, Daniel Hermansyah, was the guest at the inaugural lecture and the 2022 senate open session with the theme 'ÄúQuickly Seizing Post-pandemic Opportunities'ÄĚ to inspire new batches of students in the post-pandemic recovery period. He is an alumnus of the UMN Accounting Study Program batch 2010.
Daniel Hermansyah started his career as the Managing Director of Dreambox Branding Consultant for seven years before finally establishing Kopi Chuseyo in 2019. Daniel has been interested in coffee for many years and has been a K-Pop fan since 2006. The combination of the two led him on a mission to make Kopi Chuseyo a top-of-mind coffee brand for K-POP fans.
'ÄúWho is a fan of K-Pop or K-Drama?'ÄĚ Daniel asked the entire Senate audience. He said that the Korean wave hit the world, and in Indonesia, there were more of them during the pandemic. According to him, this is a great potential. As he was presenting, the slides showed celebrities who had come and enjoyed Chuseyo Coffee, like Helmy Yahya, Teten Masduki, Kak Seto, Erick Thohir, and Raffi Ahmad.
This year, UMN accepted more than 3,000 students, including students from the UTS Global Ambassador Scholarships program from Yemen, Belarus, Sierra Leone, Pakistan, and Iran. In addition, students from the Ministry of Education, Culture, Research, and Technology scholarship program through the Higher Education Affirmation Scholarship scheme or better known as the ADik Papua, West Papua, TKI, and Smart Indonesia Program Scholarships are realized through the KIP scholarship program.
Also read: 5 College Fees that New Students Need to Prepare.
Today's inaugural lecture and open senate session 2022 were held in a hybrid manner, broadcasted from three places: Function Hall, Lecture Hall, Lecture Theatre, and via Zoom. The event was attended by 13 undergraduate study programs, two master-level study programs, and one diploma level. Also present were the guests of honor of the board of directors and the chairman of the Multimedia Nusantara Foundation.
UMN Chancellor Dr. Ninok Leksono, M.A., in his speech, alluded to the implementation of the New Student Orientation, which coincided with the celebration of the 77th independence of the Republic of Indonesia. That at this time, we got three lessons on independence. That is to live in an independent nature, enjoy independence, and fill the independence by contributing. Contributing means producing the best works.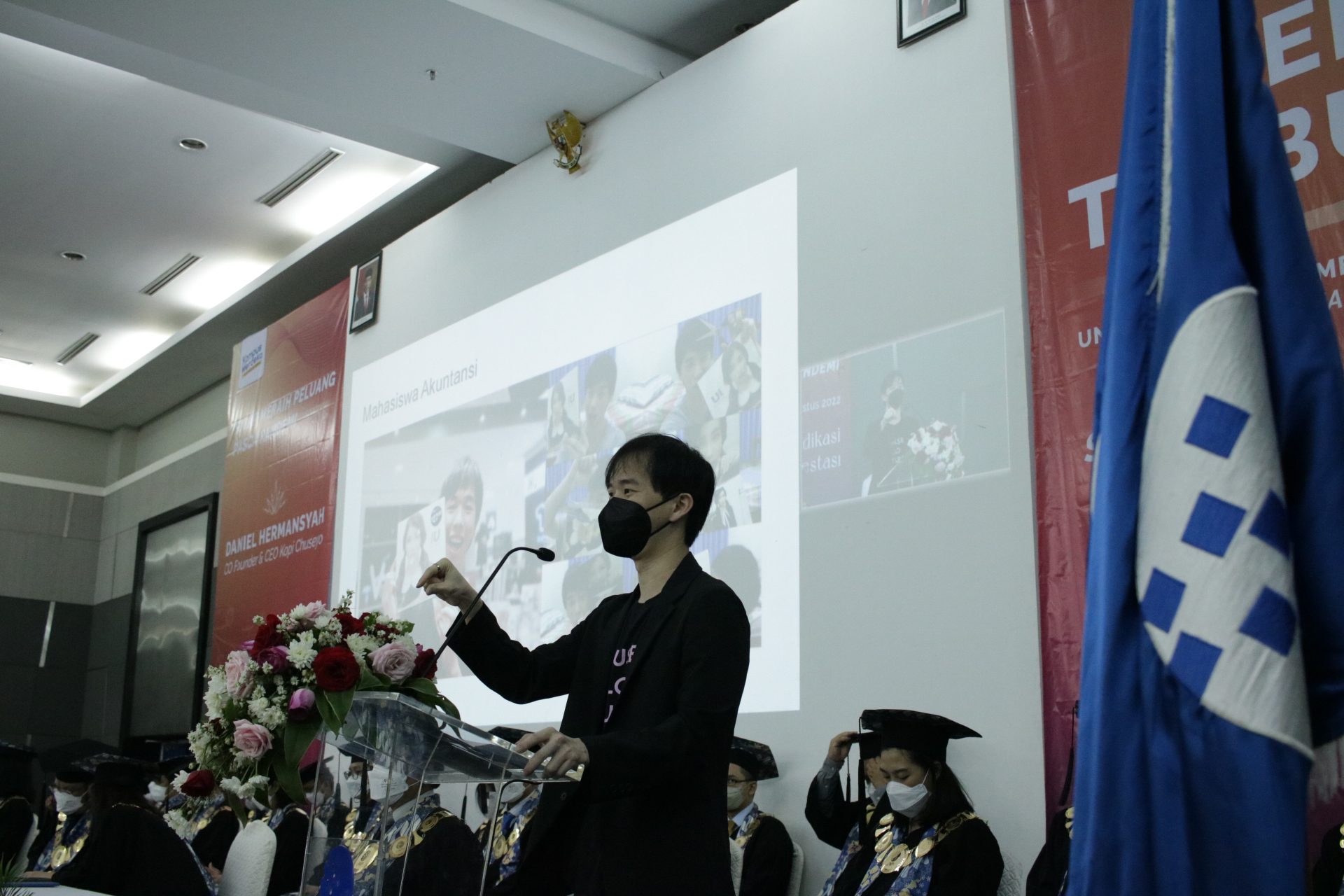 Daniel Hermansyah, UMN Accounting Alumni and CO Founder & CEO of Kopi Chuseyo. (doc. UMN)
Although according to Dr. Ninok, the challenges faced by youth today are even more significant due to the coming of the industrial and digital revolution, war, the threat of viruses, and disruption of shocks. To deal with all that, it is necessary to have teamwork.
The inaugural lecture began with an opening by the chancellor, the inauguration of new students, then the pronunciation of student promises represented by the Hospitality Study Program (Yoshella Yuliana), the Accounting Study Program (Azka Zhafirah Rajb), the Communication Studies Program (Elsa Fitri), the Visual Communication Design Study Program (Jessica Marella), Informatics Study Program (Hito Kawiswara), Information Systems Study Program (Dasmond Tan), Computer Engineering Study Program (Kanza Amanda), Electrical Engineering Study Program (Cecilia Margaretha Christie), Engineering Physics Study Program (Alroy Reynardo Waruwu), Journalism Study Program (Keira Putri Minerva), Architecture Study Program (Rapha Zakharia), Film Studies Program (Nyoman Wisma Wijanaradyota), Management Studies Program (Alexander Daniel Cahyadi Mogo), Communication Studies Distance Learning Program (Christopher Maximilian Hidajat), Communication Studies Program Master of Technology Management Study (Rio Raymundus Theodora, S.Kom.), Master of Communication Studies Program (Fakhriy Dinansyah, S.I.Ko m., M.M.). The main event of this inaugural lecture was the presentation of Daniel Hermansyah.
Also read: 5 College Hacks when Studying in Jakarta.
During the event, UMN'Äôs choir, Ultima Sonora's choir, and dance group, Tracce performed. There are also compilation videos of the student activity units at UMN. The MC also mentioned the achievements of UMN students at the international level in recent years, namely the Silver Awards Winners in the International Sustainability Invention, Innovation, and Design Showcase, 2022, which Universiti Teknologi Mara organized; Top 24 Indonesia Capital Market Studies Equity Research, 2022, organized by the Faculty of Economics and Business, University of Indonesia; Winner of the Apple WWDC22 Swift Student Challenge, hosted by Apple; Official Selection, Ca' Foscari Short Film Festival organized by Ca' Foscari University of Venice; Official Selection, First-time Filmmaker Sessions, hosted by Pinewood Studios.
Dr. Ninok said that enjoying student life is a golden opportunity. He advised, citing the French phrase which means "In every honor there is a responsibility."
by the Committee for the Open Senate Session and the 2022 UMN OMB inaugural Lecture
English translation by Levina Chrestella Theodora
Kuliah di Jakarta untuk jurusan program studi Informatika| Sistem Informasi | Teknik Komputer | Teknik Elektro | Teknik Fisika | Akuntansi | Manajemen| Komunikasi Strategis | Jurnalistik | Desain Komunikasi Visual | Film dan Animasi | Arsitektur | D3 Perhotelan , di Universitas Multimedia Nusantara. www.umn.ac.id