Content Writer vs. Copywriter, these two jobs are in demand by many students from various majors, especially those majoring in digital journalism and communication science. Many even consider the two jobs the same, but they are different. To avoid any confusion, let's look at the differences between Content Writer vs. Copywriter.
Content Writer/Content writing
A content writer is someone who does content writing! The article you are reading right now is an example of content writing. Content Writing is content that is more informative or educative, made to help and entertain. Content writing is usually a longer type of content, such as blog posts or sites like umn.ac.id! Content writing is not only used for marketing; news articles also include Content writing. Content writers, especially nowadays, will also optimize search engines (SEO) so that their writing can occupy the first position and page on the Google search engine.
Also read: Get to know the Business Major and its Job Prospects.
Copywriter/Copywriting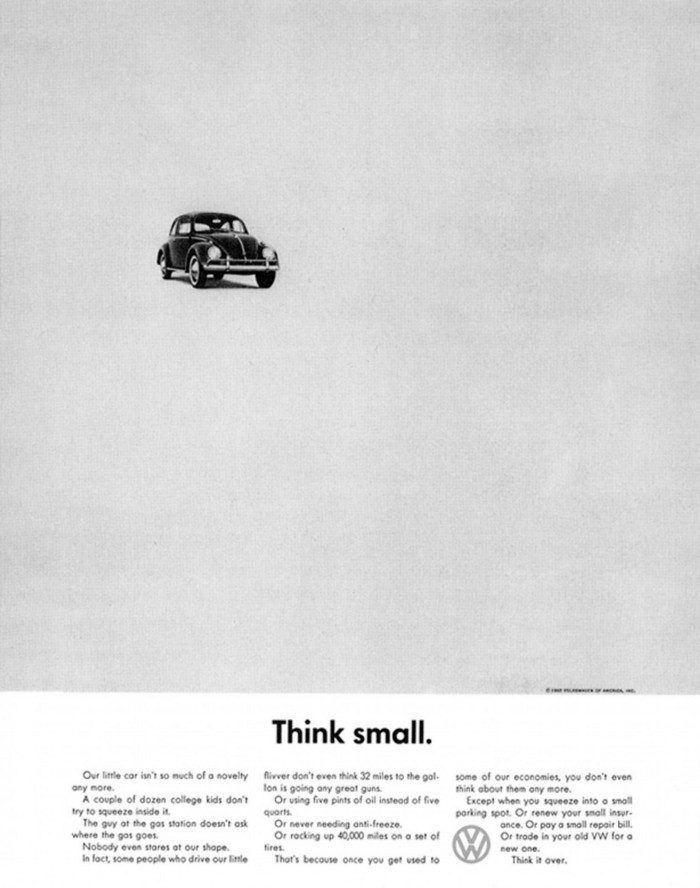 This Volkswagen Copywriting is popular among Copywriters. (source: Medium)
Copywriters write content with one goal in mind, which is to sell! A copywriter must be able to create copy that can persuade readers to take action related to a business's selling process.
To do this, copywriters make their content engaging and memorable. Copywriting highlights product features by structuring them in the best possible perspective through brainstorming creative ideas. In essence, a copywriter must be able to convince customers that a product or service is worth buying! Examples of copywriting include ad copy, taglines, slogans, and the like.
The Differences Between a Content Writer and Copywriter
For those still confused, here are some things that distinguish the tasks and goals of a Content Writer and a Copywriter.
1. Purpose
As explained earlier, a content writer and a copywriter's purpose differs. Although both aim to attract the audience's attention, content writers write content designed to educate or entertain, while copywriters create copy designed to persuade.
2. Number/Word Length
Content writers tend to write articles of around 600 to 1000 words or even more. Of course, content writers don't always write thousands of words. Articles with a few words can also be educational and entertaining, but if it is too short, they will not provide much value to the reader. In contrast, copywriters write short, concise, clear, and interesting text!
3. Grammar
Content writers must ensure that their writing uses appropriate and good grammar. Grammatical errors can distract readers' minds by forcing them to stop. But this doesn't mean content writers have to be formal and rigid in their writing.
But not for copywriters. Although not always, copywriting does not require perfect grammar to be effective. On the other hand, copywriters may be able to persuade more readers by using incomplete sentences than grammatically correct sentences.
4. SEO
Both content writers and copywriters apply SEO in their writing. It's just that content writers more effectively do SEO writing.
SEO is better when applied in content writing than copywriting because content writing offers high value to readers and does not express commercial intent. In contrast, writing content is purely informational, so readers enjoy consuming and sharing it. Another reason SEO is better in content writing is its longer word count. Content with more words is generally more SEO-friendly than short content. Even so, not a few companies are asking for or looking for copywriters who understand the basics of SEO.
Also read: Majors at UMN.
Those are the difference between a Content Writer vs. a Copywriter. Despite the differences, Content Writers and Copywriters need several things to produce good writing: creativity, research, and writing skills. If someone has this foundation, they can start a career as a Content Writer, Copywriter, or even both.
Are you interested in becoming a content writer or copywriter but are still unsure which major is suitable? You can study digital journalism, strategic communication, or marketing communication at Multimedia Nusantara University! Let's register at UMN!
Sources:
By Levina Chrestella Theodora | UMN News Service
English translation by Levina Chrestella Theodora
Kuliah di Jakarta untuk jurusan program studi Informatika| Sistem Informasi | Teknik Komputer | Teknik Elektro | Teknik Fisika | Akuntansi | Manajemen| Komunikasi Strategis | Jurnalistik | Desain Komunikasi Visual | Film dan Animasi | Arsitektur | D3 Perhotelan , di Universitas Multimedia Nusantara. www.umn.ac.id