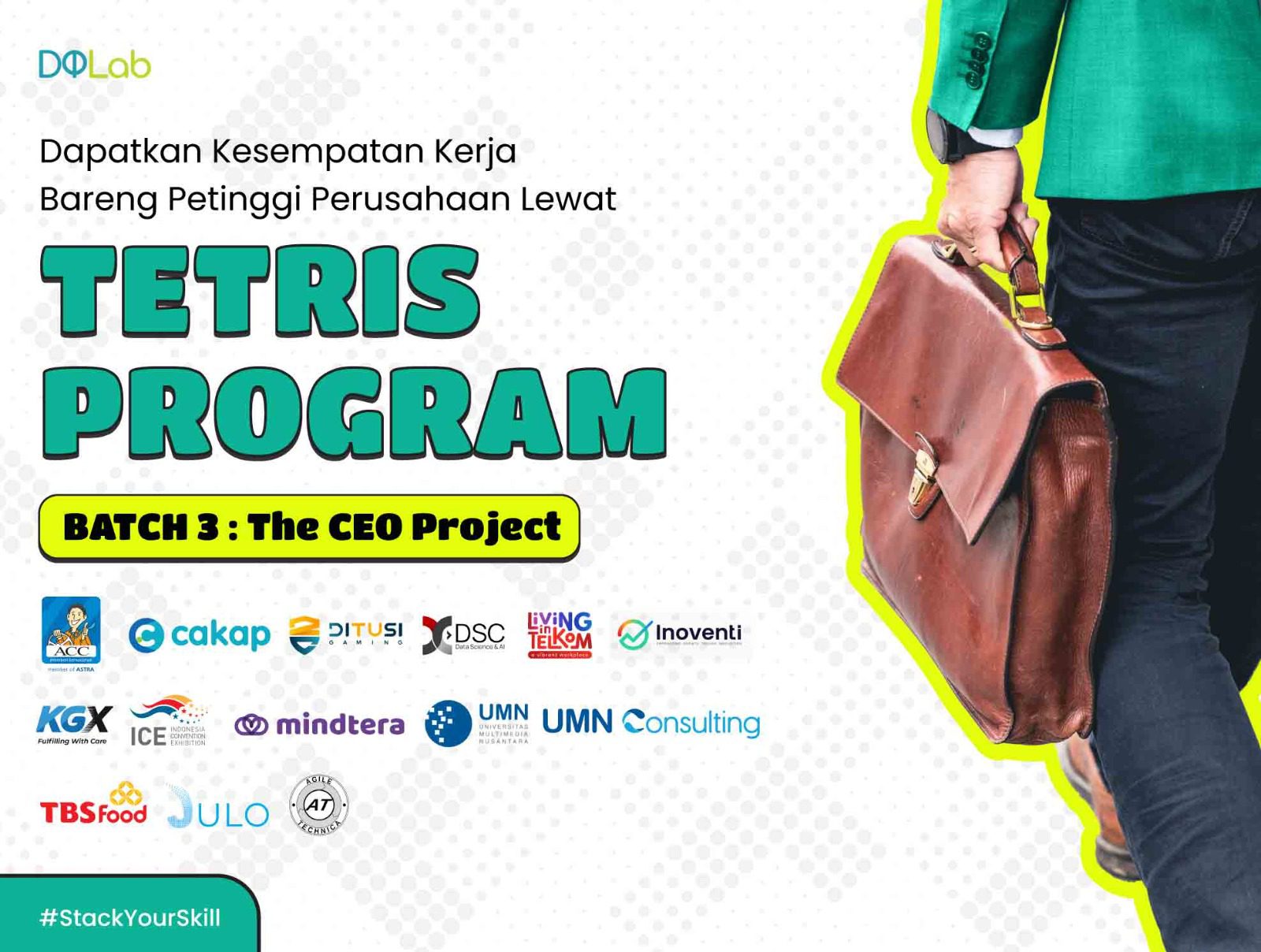 Tangerang (2/1/2023) – Industry 4.0 is now driven by data through digital technology. With the dominance of big data, the need for data talents has skyrocketed & there needs to be an adjustment for the younger generation to be more data literate. Why is that? Now, all lines of business rely on data as the basis for making business decisions precisely & accurately. Various educational backgrounds are not an obstacle because the younger generation can take non-formal steps to get acquainted with data to become a talent candidate.
Getting to know data early on prepares prospective data talents for the digital transformation industry better. President Jokowi also said at the peak of National Press Day 2023 that data is the new oil whose price is infinite. Therefore, DQLab, as a Data Science online learning platform under the auspices of Universitas Multimedia Nusantara and Xeratic, held "Tetris Program Batch 3: The CEO Project" as a forum for the younger generation to get scholarships to study Data Science and provide career opportunities through the internship process with CEOs or top executives of well-known companies in Indonesia directly.
Alexander Johnatan, CEO of Office Mindtera, "I hope that with DQLab's collaboration with Mindtera, we can together form our next young generations that are ready to work with the knowledge of both hard skills and soft skills that they can gain during this Tetris program, it is in line with what Mindtera hopes to be an impact for people, especially employees. Hopefully, Mindtera and DQLab can have a good impact on improving skill completeness for our next generations."
Yohan Limerta, CTO and Co-Founder of Cakap said, "We are very excited to participate in the DQLab program again. We hope to nurture and shape participants into mature talents for this program or the DQLab & Tetris program in the future. For prospective participants, we expect candidates who can adapt quickly to the Cakap work environment, have a growth mindset, and align with Cakap's values.
Different from the Tetris Batch 1 & Batch 2 program, Tetris Program Batch 3 offers greater benefits, including the opportunity to have direct work experience to collaborate with top company officials in Indonesia, build networking with professionals in various industries, get an E-certificate accredited by the company, have the opportunity to scale-up credibility with portfolio data from real projects in the company and of course the chance to work in top companies.
Gendis Ayu Miranti, Head of HRBP & Legal Kompas Gramedia, said, "With this collaboration, we hope that the Tetris program can contribute to the development of KGX's business through the presentation of data that supports effective management decision-making."
Career opportunities in the data field are wide open! DQLab collaborates with several well-known companies ready to help you for four weeks for a Virtual Internship with CEOs, Directors, & Company Leaders. These companies include Universitas Multimedia Nusantara (UMN), TBS Food, Agile Technica, Ditusi Gaming, Mindtera, UMN Consulting, CAKAP, Inoveti, Telkom Indonesia, KGX, ICE Indonesia and many others.
Feris Thia, Founder of Xeratic said, "With a very high demand for access to information in the form of dashboards by CEOs and management as end-users to support them in making decisions, DQLab answers this need by providing skills and access to talents to be able to connect and support directly the CEOs and management of industry partners."
Successfully exploring his potential to be recruited by top companies, Elkan Jeremy, one of Tetris Batch 1 alumni who is now a Data Analyst Intern at Kawan Lama Group, admitted that he is very grateful to be able to participate in this scholarship program by DQLab. He feels that this is an opportunity to build a good image so that he can have credibility in the eyes of the company.
"Of course, I got a lot of new knowledge during the Tetris program, one of which is understanding SQL, starting from installing basic foundations to changing scripts & queries available in SQL. The SQL material learned is also a form of reflection on cases in the industry.
In this program, I was also introduced to the R language." Said Elkan Jeremy, Data Analyst Intern at Kawan Lama Group & Tetris Batch 1 Alumni.
Not only Elkan, Bagas Pragasto, one of the Tetris Batch 2 Alumni, also admitted that he was very helpful and suitable for the learning model available in the Tetris Batch 2 program. "As a Mathematics graduate, I learned a lot about data. All the Tetris Batch 2 learning processes that I went through were very memorable. Starting from getting to know SQL, which I just got to know through Tetris, Python, where I got the experience to create web applications & Pentaho, which is very unique & very friendly for beginners.'ÄĚ
'ÄúThanks to Tetris Batch 2, after graduation, I had the opportunity to intern at Efishery. The knowledge & experience I gained have now led me to work full-time at Efishery. Thank you so much, DQLab! Said Bagas, Data Architect Efishery & Tetris Batch 2 Alumni,'ÄĚ Bagas concluded.
The opportunity to join this program is open to active students who can work for four weeks, participants who are graduates of vocational high school, D3, D4, and fresh graduates looking for jobs in the data field and professionals who are not bound by contracts. Thus, participants will build experience in terms of competence and direct networking with companies to prepare for the recruitment process.
Prepare yourself to make a breakthrough to become a reliable data talent candidate by joining the Tetris Program Batch 3: The CEO Project. The registration period is open until April 6, 2023.
Yovita Surianto, DQLab Program Manager, "TETRIS 3: The CEO Project is expected to provide an opportunity to directly build and apply skills in the data field. In addition, with this program, participants can expand strategic networks with industry, data practitioner mentors, and TETRIS alumni as preparation for building a career in data."
Registration link: https://forms.gle/gC9xD4XB7diNRG9v5
***
About DQLab
Under the auspices of Universitas Multimedia Nusantara and Xeratic, DQLab is an online data science program that trains participants to prepare themselves to become reliable data practitioners with the roles of Data Scientist, Data Analyst, and Data Engineer. Direct access to the DQLab platform allows participants to work on real-world cases in various industries. Get support & discussion from data & industry experts, and get certified by the industry after the learning takes place.
By Annisa Widya Davita | DQLab
English translation by Levina Chrestella Theodora
Kuliah di Jakarta untuk jurusan program studi Informatika| Sistem Informasi | Teknik Komputer | Teknik Elektro | Teknik Fisika | Akuntansi | Manajemen| Komunikasi Strategis | Jurnalistik | Desain Komunikasi Visual | Film dan Animasi | Arsitektur | D3 Perhotelan , di Universitas Multimedia Nusantara. www.umn.ac.id