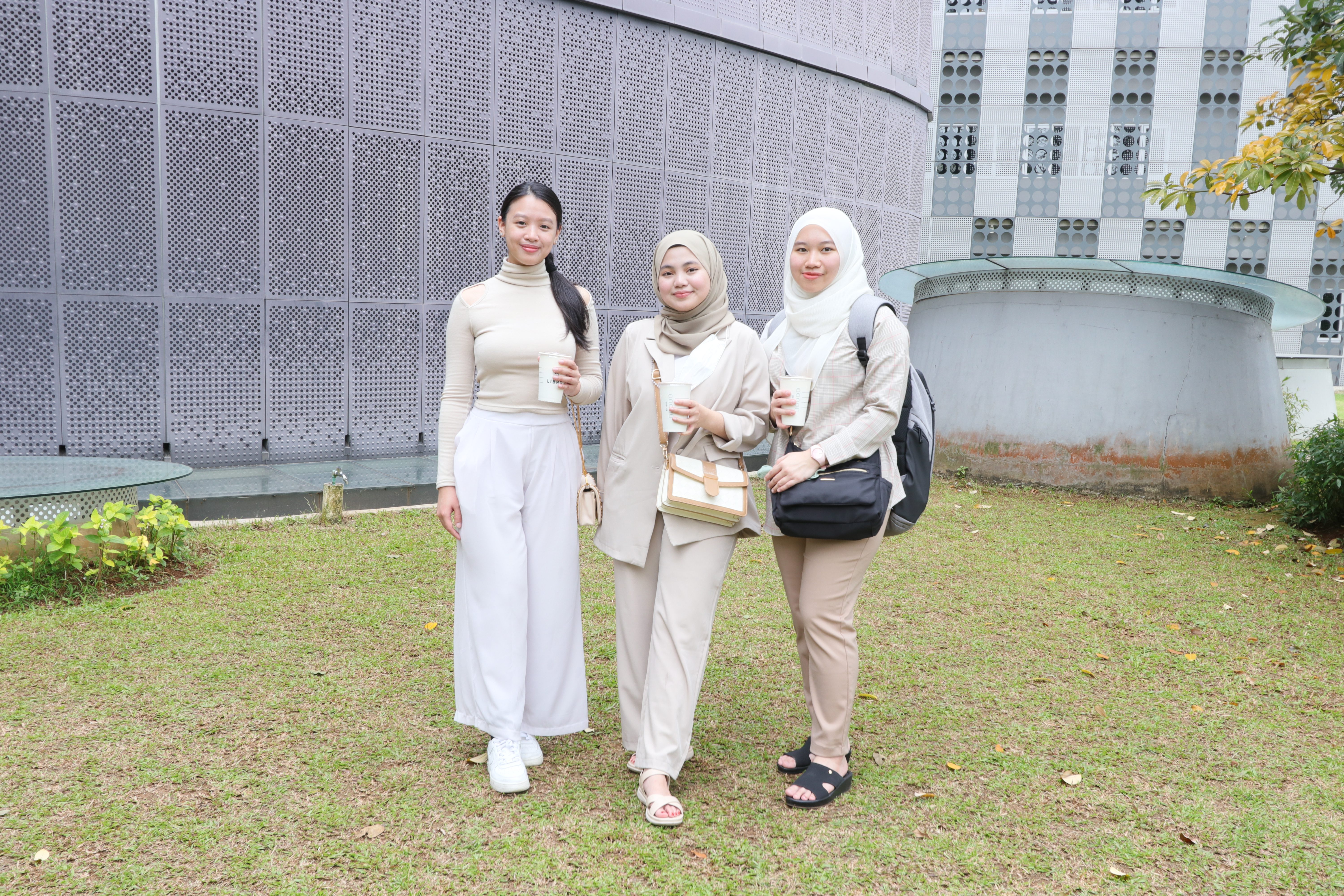 The three students from the University of Brunei Darussalam, Michelle, Batrisyia, and Aqilah. (Doc. UMN)
TANGERANG 'Äď On Friday (27/01/2023), UMN welcomes exchange students from a neighboring country, Brunei Darussalam. Batrisyia is a student from the Business Administration Study Program, while Michelle and Aqilah are students from the Entrepreneurship Study Program. These three international students are students from the University of Brunei Darussalam.
These three students came to UMN to attend lectures on the Management study program at UMN with a focus on Entrepreneurship at UMN's Skystar Business Incubator. "This is also the first collaboration carried out by our university and UBD," Batrisya said.
Boby Arinto, S.E., M.M. LTE, the Global Relations and Cooperations Office Manager of UMN, explained that the student exchange program between UMN and UBD was a program organized by UMN through the Global Office, the Faculty of Business with the Management Study Program, and Skystar Business Incubator with the UBD Global Relations Division.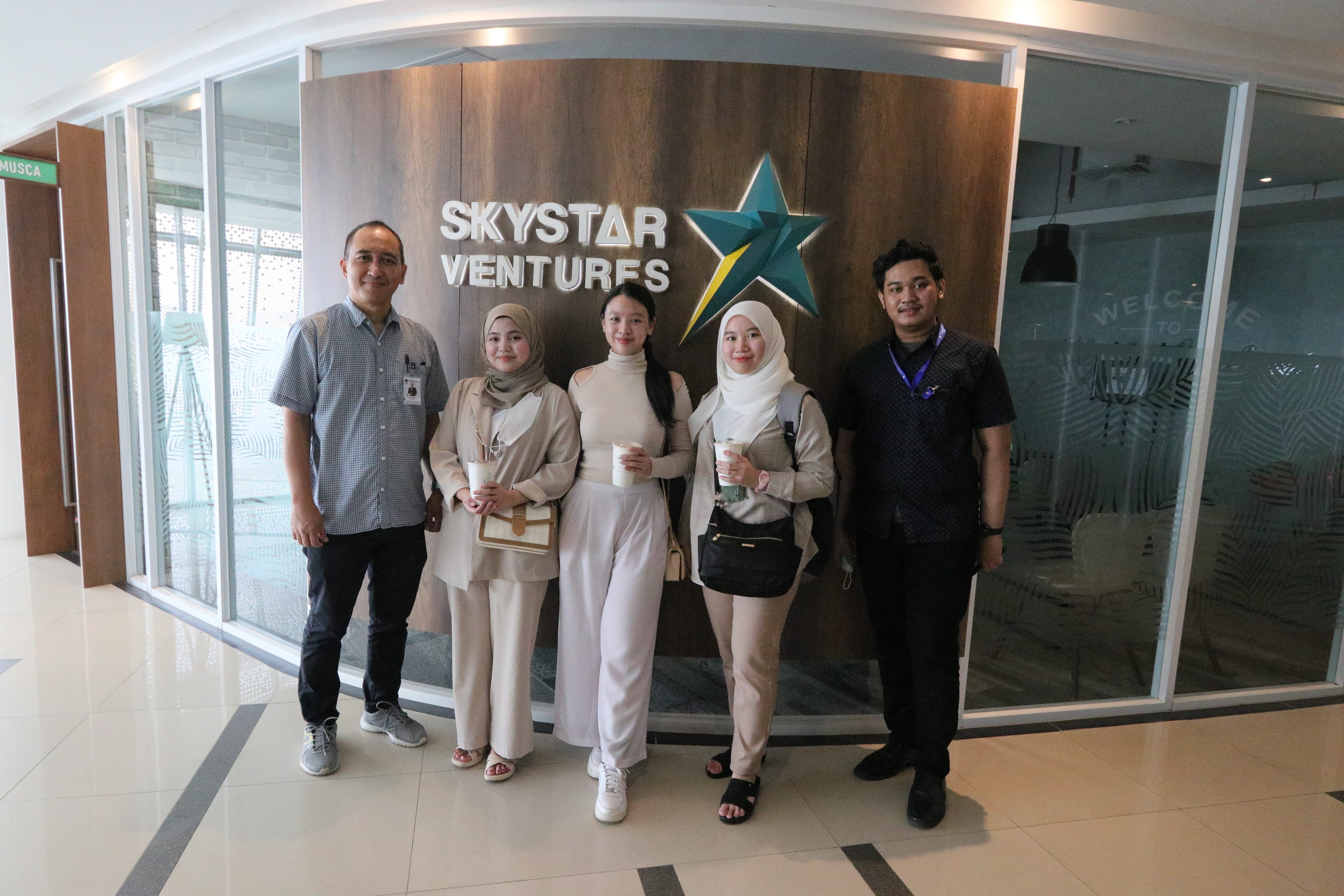 The three students from the University of Brunei Darussalam at Skystar Ventures UMN. (Doc. UMN)
It should be noted that UMN has a facility called Skystar Ventures, a business incubator and Co-Working Space created to explore the potential and facilitate UMN students who have an entrepreneurial spirit.
"They will learn about Start-Up management and be guided by mentors from Skystar Ventures as well as company practitioners and collaborate with UMN students. This program also includes visits to several companies to see best practices in the industry so as to enrich students' insights," Boby said.
"Because our goal here is to take part in the incubation program, we also hope to be able to maintain the cooperative relationship between UMN and UBD. Hopefully, in the future, there will be more student exchanges for Indonesia and Brunei Darussalam," Michelle said.
"Hopefully, this collaboration will take place reciprocally. Apart from UBD students studying at UMN, it is also hoped that UMN students studying at UBD will also participate," Boby said, agreeing with Michelle.
Apart from Michelle, Aqilah also wants to learn more about how the incubation program is carried out and how business in Indonesia works.
"What we mainly want to see is how businesses in Indonesia run, that's why I took the incubation program at UMN, to understand the differences and, of course, receive new knowledge."
Batrisyia also added that she wanted to learn about culture, traditions, and how Indonesian students learn that can be applied in their country.
"In the future, various other collaboration programs will be developed between UMN and UBD, not only within the scope of students but including lecturers, staff, and research collaboration," Boby concluded.
By Ghina Salsabila | UMN News Service
English translation by Levina Chrestella Theodora
Kuliah di Jakarta untuk jurusan program studi Informatika| Sistem Informasi | Teknik Komputer | Teknik Elektro | Teknik Fisika | Akuntansi | Manajemen| Komunikasi Strategis | Jurnalistik | Desain Komunikasi Visual | Film dan Animasi | Arsitektur | D3 Perhotelan , di Universitas Multimedia Nusantara. www.umn.ac.id