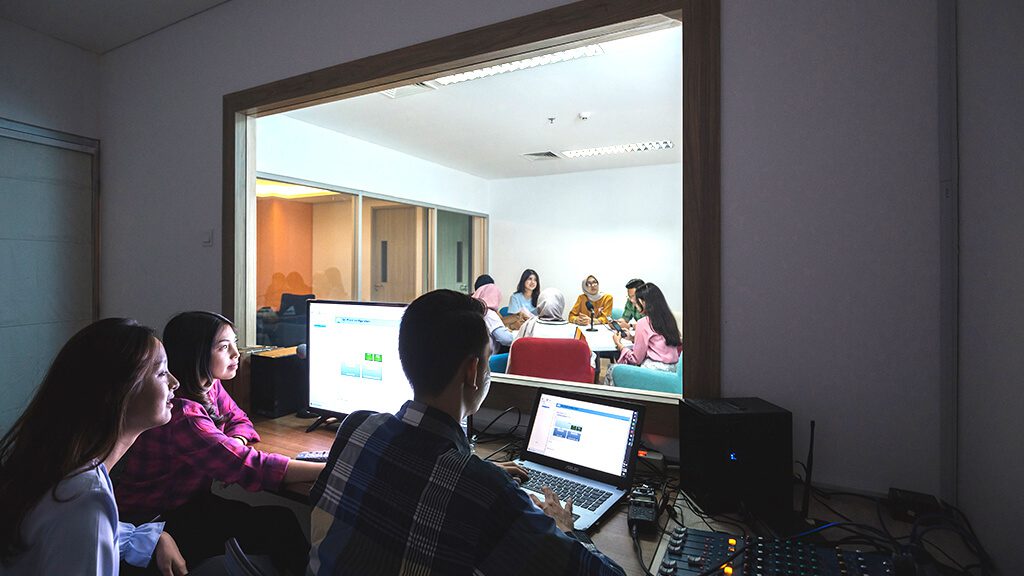 Collabo Insight FIKOM UMN: Space to conduct Focus Group Discussion (FGD) simulations or in-depth interviews (Source: umn.ac.id)
You may already be familiar with the Communications department. Practically speaking, Communication Science, or in short Communications is a university study program that studies the process of delivering messages effectively from the communicator (messenger) to the communicant (message recipient) through various channels and media. In this context, you will study human communication carried out at various levels, from individual, advertising/publicity, media, intercultural, and political communication, to social media communication.
However, this article does not discuss the Department of Communication Science, but the Department of Strategic Communication. In short, this department generally covers what is learned in Communications, but students are also specially equipped with applied communication skills to help graduates be more relevant to the needs of the industry. In addition, this department also learns not only things related to communications, but also about strategies for using communications as an important aspect in optimizing corporate or marketing communication activities.
This article will explain what will be studied (in strategic communications), the career prospects, and why you should study in this department. Read along to find out more!
Strategic Communication Major? Is it Just Talking?
Similar but not the same, the Department of Communications and the Department of Strategic Communication have the same intersection, but there are still differences between the two. In general, the Communications major will usually be divided into several broader specializations, such as Public Relations, Journalism, Broadcasting, Advertising, Communication Management, and so on.
While the Strategic Communication major has fewer specializations but is more specific and in-depth regarding the application of knowledge, for example, the specialization in Corporate Communication is more focused on the world of public relations in companies and in government. There is also a specialization in Marketing Communication which focuses on marketing products, services, to questioning the branding of a brand which usually aims at buying and selling transactions.
Yep, students who choose to study this major will usually be labeled as people who are just 'good at talking.' In fact, the expression is also not entirely wrong. As humans, we understand very well that 'talking' or communicating by speaking and using language is one effective way of conveying a message to others, both individually and to a particular group. So, the ability to speak is one of the essential needs for those who want to dwell in the world of communication.
Also read: Two UMN Communications Students Qualify to Become Miss Indonesia 2016 Finalists.
However, this does not mean that the ability to talk is the only thing needed in this department or field of communication science. Many other aspects must also be mastered, such as creative writing skills, basic photography and videography skills, critical and strategic thinking skills, teamwork skills, and even basic graphic design skills.
What do you study in the Department of Strategic Communication?
In addition to studying the sciences that are generally studied in the Communication Science major, you will also meet several other courses which are a blend of interdisciplinary knowledge but still intersect with communication science. Some examples include Critical & Creative Thinking, Business Principles, Design Thinking, Strategic Communication for Sustainable Organizations, Brands & Branding, Integrated Marketing Communication, Growth Hacking, Special Event & Brand Activation, Sociopreneurship, Account Planning & Management, B2B & Corporate Advertising, to Investors & Government Relations and so on which will undoubtedly enrich students with various knowledge, insights and skills in this field.
Why Should You Choose a Strategic Communication Major?
From the explanation above, you must be wondering, "why should you choose a Strategic Communication major, not Political Science, Journalism, or the usual Communication Science and others?"
Human civilization, which is still developing, has also opened up many new gaps and opportunities for many people to contribute in it. Likewise, the vital role of communication in every aspect of life. As a concrete example, practitioners in the field of communication play an essential role in a company's reputation and brand building. Not only that, the opportunities for graduates majoring in Strategic Communication are also wide open in various other industrial sectors other than in the world of advertising, broadcasting, journalism, or public relations.
How Promising Are the Career Prospects of a Strategic Communication Major?
Talking about the career prospects of graduates majoring in Strategic Communication, you don't need to worry because, as explained in the previous section, wherever it is, as long as it involves humans in the industry, the role of people in the field of communication will always be needed. By becoming a graduate of this department, you have the opportunity to engage in the world of advertising, marketing, and broadcasting.
For matters of place and work atmosphere, it is also very varied. You can choose whether you are more comfortable working in an office environment attached to routines, such as in the public relations department. These jobs require fast and dynamic work, such as in advertising or branding agencies, to jobs that require fast and dynamic work. requires you to continue to go into the field like a journalistic reporter.
In addition, several other professions can also be chosen, such as Broadcaster, Account Executive, Content Creator, Negotiator, Brand Manager, PR Consultant, Political Consultant, Researcher, Lecturer, Content Writer, Product Manager, and so on.
Regarding career paths, graduates from this department can also work in various positions and levels, ranging from junior, senior, specialist, managerial, or even higher positions. Of course, this career opportunity depends on how well you perform and the value of the work produced.
Also read: Criteria for the Best Private Campus for a Communications major.
There you go. Those are some things you need to know about the Strategic Communications major, the difference between the general Communications major, to the slanted view of this department. What do you think? This major is interesting, isn't it? If you are interested in knowing more about this major and which universities provide this course, you can visit it here.
Sumber:
By Virino Miracle | UMN News Service
English translation by Levina Chrestella Theodora
Kuliah di Jakarta untuk jurusan program studi Informatika| Sistem Informasi | Teknik Komputer | Teknik Elektro | Teknik Fisika | Akuntansi | Manajemen| Komunikasi Strategis | Jurnalistik | Desain Komunikasi Visual | Film dan Animasi | Arsitektur | D3 Perhotelan , di Universitas Multimedia Nusantara. www.umn.ac.id