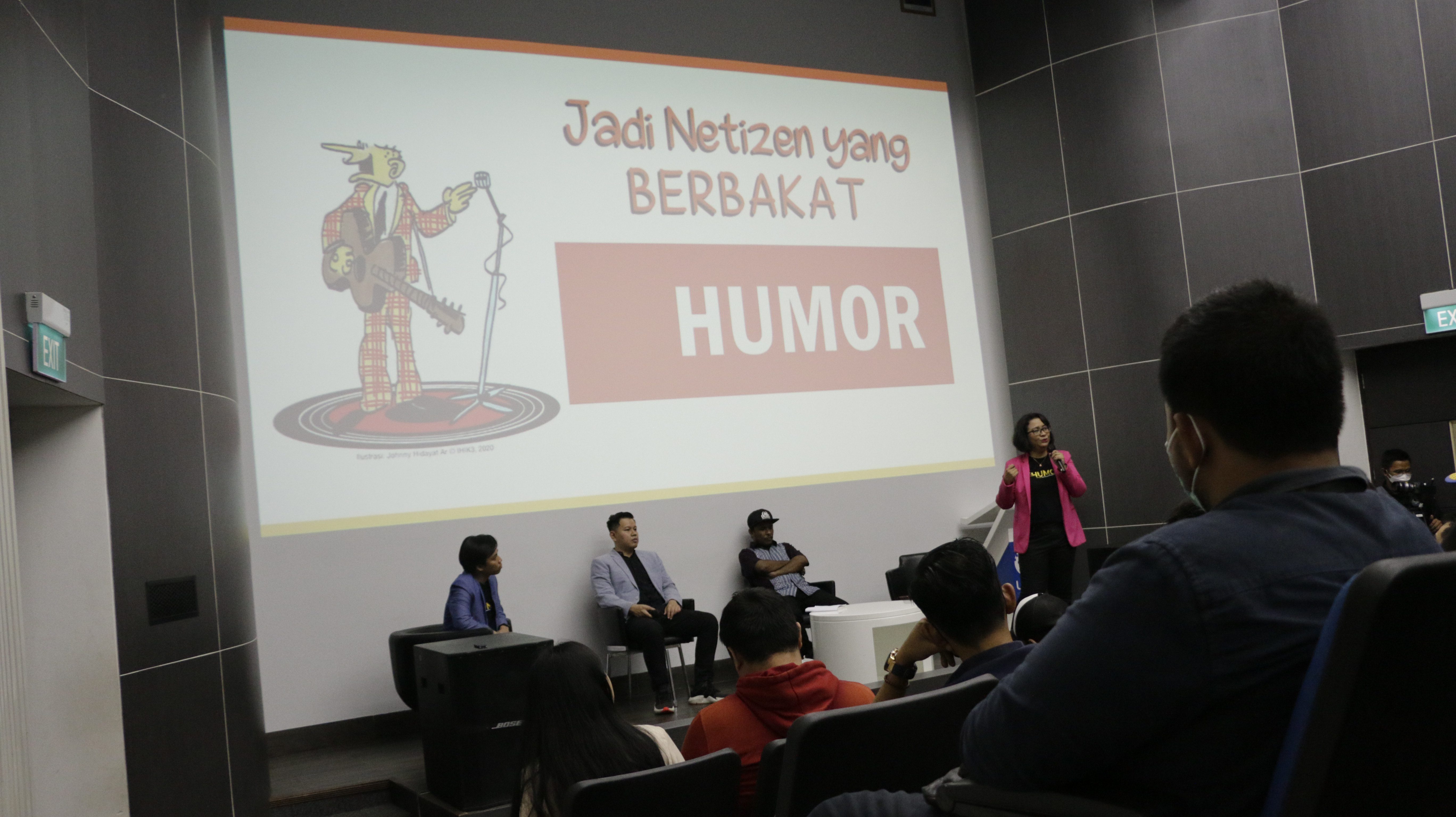 UMN and IHIK3 collaborated to organize an event "Discussion of Humor in the Dynamics of Social Life" on Thursday (1/9). (doc. UMN)
TANGERANG 'Äď It turns out that humor can open a closed heart. The lecturer of the Distance Education (Pendidikan Jarak Jaruh/PJJ) Program in Communication Studies, Silvanus Alvin, also said that a person would find it difficult to overcome the dynamics of life if there is no humor.
"Often there are taboos that are difficult to be brought up, but through humor, they can be conveyed more fluidly and minimize offence to the interlocutor," Alvin said, who is also known as the author of the book "Political Communication in the Digital Age: from Big Data, Influencer Relations. & the Power of Celebrities, to the Politics of Laughter'ÄĚ.
Finally, humor can be a tongue-in-cheek behind various gaping social unrest. Alvin even revealed that we could influence the public with only humor. This extraordinary practice of humor can be seen through the role of the comedians.
The comedians bring humorous material that can stick in the public's minds. Alvin says it can happen because humor has created a positive feeling. Those emotions are recorded as memories in the public's mind.
Also, the role of humor can also "ground" complex problems so that the public easily understands them. Nevertheless, Alvin emphasized that the application of humor still needs to prioritize ethics. The key is basing humor on facts and not bringing content containing ethnicity, religion, race, and intergroup issues (suku, agama, ras, dan antargolongan/SARA).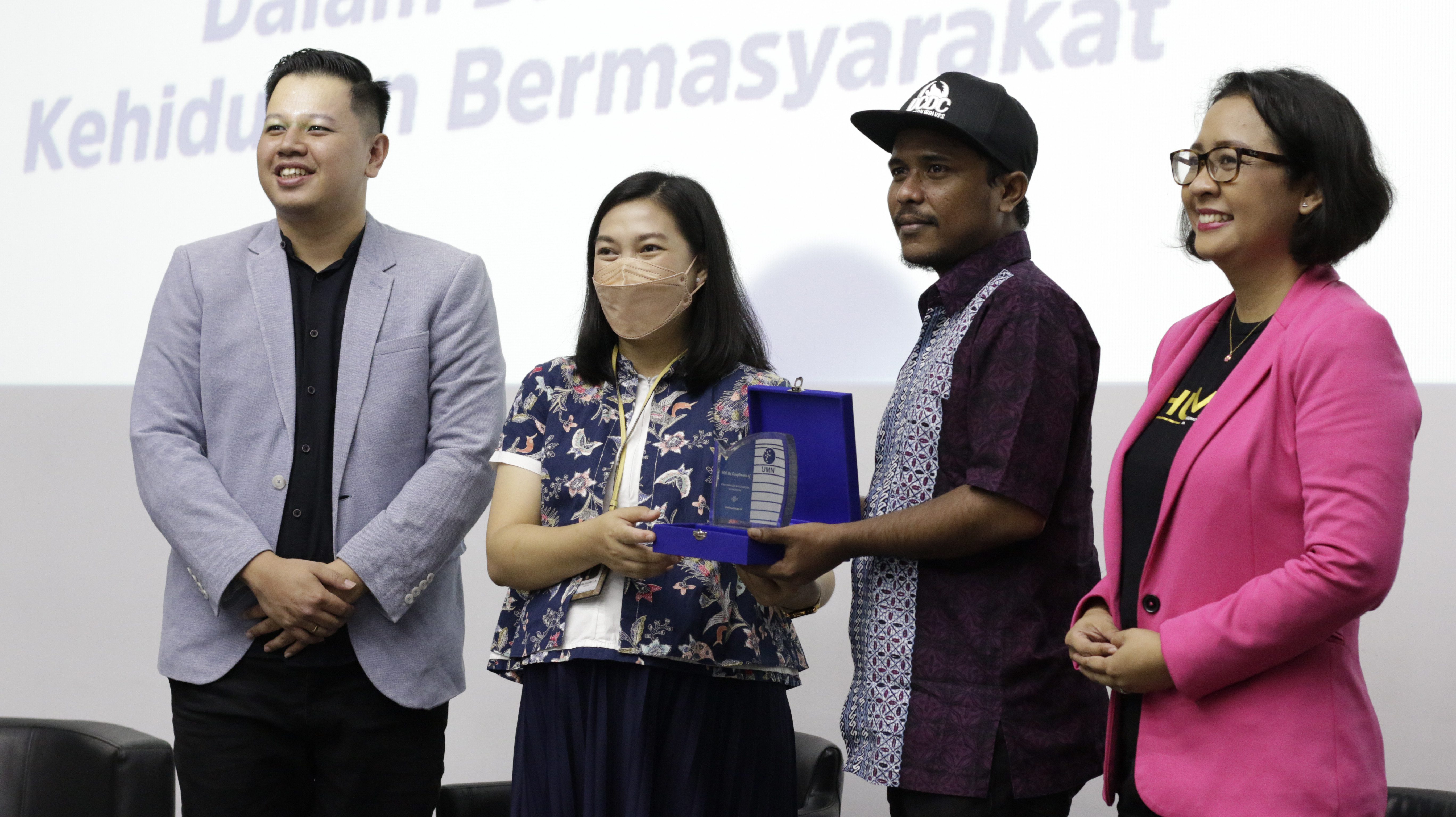 Head of the PJJ Study Program in Communication Studies Helga Liliani C. D. (2nd left) handed over placards to 'ÄúDiscussions of Humor in the Dynamics of Social Life'ÄĚ, including Silvanus Alvin (far left), Mamat Alkatiri (3rd left), Novrita Widiyastuti (most left) right). (doc. UMN)
A comedian, Mamat Alkatiri, also said that comedy has its timing. He explained that timing would determine the success of a humor.
In addition, the CEO of IHIK3 & Humor Justice Warrior, Novrita Widiyastuti, also reminded the public, especially netizens, to remain critical of humor. For example, critically distinguishes between satirical comedy and mockery.
"If we want to become 'talented' netizens, we must be critical, so we don't get offended easily," Novrita said in an event entitled "Discussion of Humor in the Dynamics of Social Life" at the Lecture Hall, UMN, Thursday (1/9).
The event "Discussion of Humor in the Dynamics of Social Life" is a collaboration between Multimedia Nusantara University (UMN) and the Indonesian Humor Institute (Institut Humor Indonesia Kini/IHIK3). This event wants to educate the existence of humor as a form of communication that cannot be underestimated. You can watch the full show here: https://youtu.be/C2KWMe25x1o.
About Multimedia Nusantara University
UMN is part of the Kompas Gramedia Group. In accordance with the vision of its founder, Jakob Oetama, UMN was built with a mission to participate in the nation's intellectual life and promote its welfare through the implementation of higher education. UMN has obtained Institution A Accreditation from BAN-PT, ASEAN University Network 'Äď Quality Assurance, and now UMN is heading to a World Class University.
Inaugurated on November 20, 2006, UMN now has 13 Study Programs (Prodi), namely Diploma in Hospitality, Bachelor in Informatics, Bachelor in Computer Engineering, Bachelor in Electrical Engineering, Bachelor in Engineering Physics, Bachelor in Information Systems, Bachelor in Accounting, Bachelor in Management, Bachelor in Communication Science, Bachelor in Digital Journalism, Bachelor in Architecture, Bachelor in Visual Communication Design and Bachelor in Film & Animation.
In addition, UMN has also opened postgraduate study programs consisting of a Master in Technology Management and a Master in Communication Studies. UMN has also innovated by opening a study program with the Distance Learning method called UMN Digital Learning (UDL), where students can study fully online from anywhere. Until now, UMN has had more than eight thousand graduates spread throughout Indonesia and abroad.
About the Indonesian Humor Institute (IHIK3)
IHIK3 is a center for humor activities in Indonesia that manages humor seriously and professionally, based on experience, knowledge, and research with a multidisciplinary and multi-professional approach. Founded by three connoisseurs, actors, and thinkers of humor: Seno Gumira Ajidarma, Danny Septriadi, and (late) Darminto M. Sudarmo, IHIK3 supports its expertise in the field of humor through the Library of Humor Studies, a humor library containing more than 2,000 literature and humor products. From within and outside the country. IHIK3's own programs so far have been publishing humor books, humor symposiums, and grants for humor research.
Our Determination: For the sake of Fair and Civilized Humor!
By Melinda Chang | UMN News Service
English translation by Levina Chrestella Theodora
Fisika | Akuntansi | Manajemen| Komunikasi Strategis | Jurnalistik | Desain Komunikasi Visual | Film dan Animasi | Arsitektur | D3 Perhotelan , di Universitas Multimedia Nusantara. www.umn.ac.id