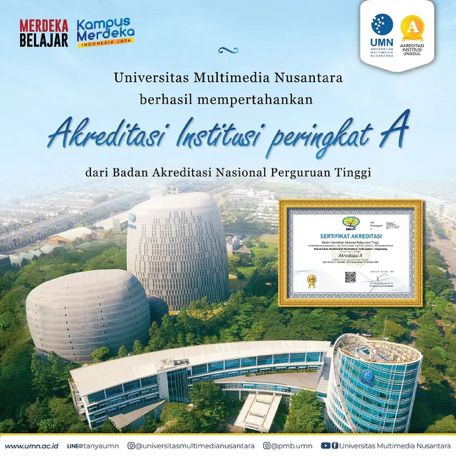 Multimedia Nusantara University succeeded in maintaining the accreditation of an A rank institution. (Doc. UMN)
Accreditation is an essential indicator for prospective students when going to college or university. This is because accreditation is considered a reflection of the quality of the university.
Multimedia Nusantara University (UMN) is one of the private campuses that has again received accreditation 'ÄúA'ÄĚ based on the decision of the National Accreditation Board for Higher Education (Badan Akreditasi Nasional Perguruan Tinggi/BAN-PT) number 1068/SK/BAN-PT/Ak-PPJ/PT/XII/2021.
UMN is located at Jalan Scientia Boulevard, Gading Serpong, Tangerang, Banten. The campus, which was officially established in 2006, has the vision to become a leading university in the field of Information and Communication Technology (ICT), both nationally and internationally, which produces graduates with international insight and high competence in their fields, accompanied by an entrepreneurial spirit and noble character.
Also read: UMN 360 Virtual Tour
Is Campus Accreditation Important?
The answer is yes. Campus accreditation is the process of assessing the quality of a university using criteria that the authorized institution has set.
Every university in Indonesia listed in the Higher Education Database (Pangkalan Data Pendidikan Tinggi/PDDikti) will be assessed by BAN-PT. The goal is to ensure that higher education institutions in Indonesia meet the quality standards and maintain the quality of education service providers.
Campus accreditation assessment standards start from the vision and mission, management system, implemented curriculum, human resources, the condition of students and graduates, facilities and infrastructure, the readiness of academic administration, research, and cooperation.
Of course, UMN passed all the assessments above! Then, you may wonder, what are the advantages of studying at UMN?
Perks of UMN
1. ICT-based study programs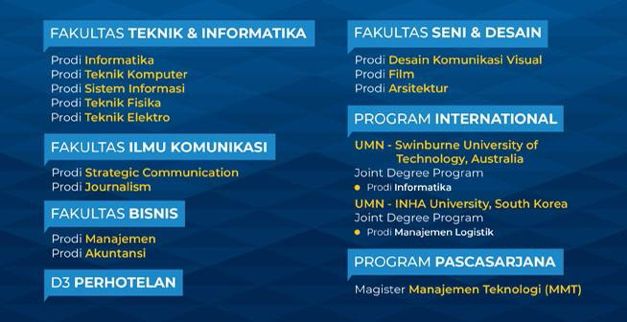 Majors at UMN. (Doc. UMN)
In accordance with its vision and mission, UMN compiles a curriculum for all its study programs based on ICT. Seeing that there are not enough ICT experts in Indonesia, every UMN student is given insight and orientation on the development so that they can face and create change.
2. Technopreneurship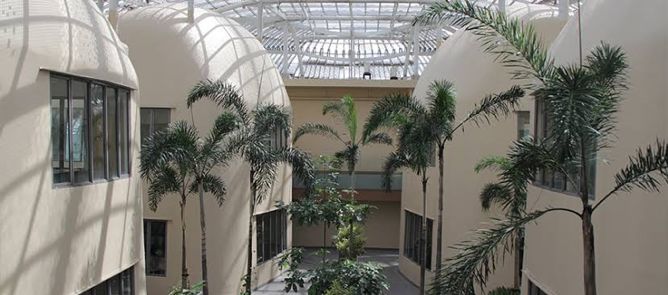 Skystar Ventures, UMN's business incubator. (doc. UMN)
UMN has a business incubator program called Skystar Ventures to prepare students to become entrepreneurs in the technology sector. This program allows every student to join.
3. Facilities In Accordance with Industry Standards
Studio Radio is one of UMN's facilities that is in accordance to industry standards. (Doc. UMN)
UMN provides various lecture facilities according to industry standards, such as Big Data Lab, Artificial Intelligence Lab, Game Development Lab, Green Screen Studio, TV Studio, Newsroom, Radio Studio, Architecture Studio, Kitchen Lab, and many more. With this, students are invited to be closer to the industrial world while still in college.
Also read: UMN Again Wins the ASEAN Energy Saving Building Award
4. Green Campus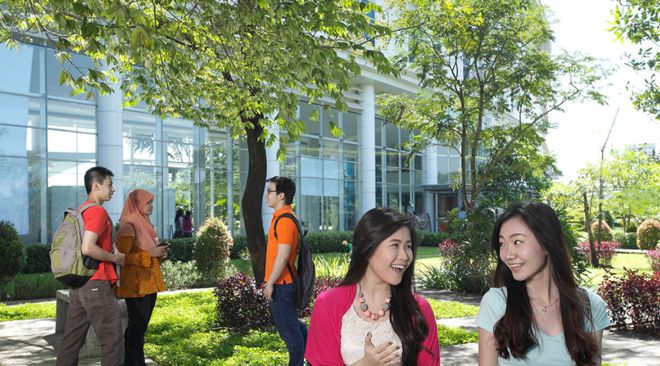 UMN is a green campus. (Doc. UMN)
UMN has a unique, energy-efficient, cool, and aesthetically pleasing building design. Every corner is designed to support the learning process comfortably. The concept of 'Äúevery space is a learning space'ÄĚ can be found on the UMN campus!
Now that you know the advantages of studying at UMN, want to know more information? Visit the UMN campus profile!
*by Nadhira Annisa Rifsal | UMN News Service
Kuliah di Jakarta untuk jurusan program studi Informatika | Sistem Informasi | Teknik Komputer | Teknik Elektro | Teknik Fisika | Akuntansi | Manajemen| Komunikasi Strategis | Jurnalistik | Desain Komunikasi Visual | Film dan Animasi | Arsitektur | D3 Perhotelan | International Program, di Universitas Multimedia Nusantara. www.umn.ac.id