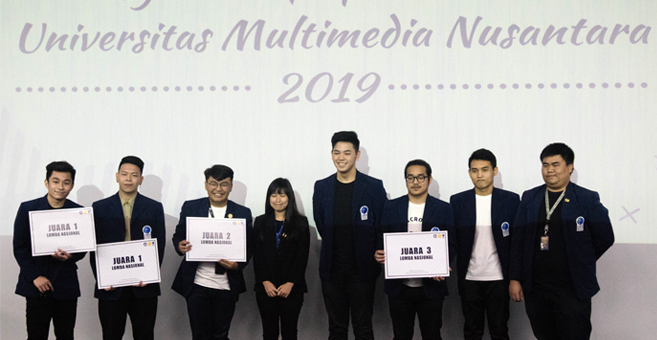 Simbol Apresiasi UMN Bagi Mahasiswa Berprestasi
TANGERANG – Sebagai bentuk apresiasi Universitas Multimedia Nusantara (UMN) kepada Mahasiswa UMN yang berprestasi, UMN mengadakan acara Simbol Apresiasi 2019. Pemberian apresiasi ini mencakup bidang akademik maupun non akademik yang telah diraih UMN. Tercatat sebanyak 179 penghargaan dalam acara ini. Acara Simbol Apresiasi 2019 diselenggarakan di Lecture Theatere UMN  pada  Selasa (3/12).
Ika Yanuarti selaku Wakil Rektor bidang Kemahasiswaan UMN mengatakan mahasiswa UMN harus mempunyai jiwa kompetitif dan proaktif dengan mengajukan kompetisi. Selain berkompetisi di tingkat regional dan nasional, Ika juga mendorong agar mahasiswa UMN dapat bersaing pula secara internasional.
"Kampus akan terus membantu dalam bentuk TAPP (tarif akomodasi transportasi) untuk terus mendorong mahasiswa mengikuti lomba tingkat Nasional bahkan Internasional, disamping lomba regional cakupan Kota Tangerang saja," ujar Ika.
Ninok Leksono selaku Rektor UMN juga mengatakan betapa pentingnya kecerdasan majemuk pada era sekarang. Hal ini terbukti dengan sederet prestasi non akademik yang diraih mahasiswa UMN. Tidak hanya unggul dalam bidang akademik ataupun kognitif namun bisa pula unggul dalam banyak bidang seperti musik, olahraga, dan ekonomi kreatif.
"Most Wonderful Time disaat-saat setiap manusia membutuhkan penghargaan kemudian mendapatkannya, need of achievement. Seperti kalimat per ardua ad astra yang berarti menuju bintang, dibutuhkannya perjuangan berupa kerja keras hingga mendapatkan bintang."
Peraih juara 2 Desain Graphic Technology ASEAN Skill Competition, Rosalina Renwarin yang merupakan mahasiswi Desain Komunikasi Visual mengatakan betapa baiknya acara simbol apresiasi yang dapat mempertemukan mahasiswa/i berprestasi lainnya. "Simbol apresiasi ini menjadi salah satu bentuk motivasi baru, semangat lebih terpacu untuk mengikuti lomba dan menjadi kontributor peringkat akreditasi kampus itu membanggakan."
Beberapa prestasi yang diraih mahasiswa UMN selama tahun 2019 adalah peraihan gold medal oleh Ultima Sonora dalam lomba A Voyage of Songs International Choir, juara 1 Nasional Zest 2019 External, juara 1 Nasional Duta Bahasa Banten,  juara 1 Nasional Breakdance, dan prestasi lainnya.. Adapun kompetisi akademik yang diraih meliputi Business Plan Competition, English Competition, Graphic Design, Film Festival, Accounting Competition dan kompetisi non akademik meliputi turnamen Wing Chun, Softball, Drum Band, Renang, Basket, Radio Announcing Competition, Tari Kreasi dan E-Sport.
Selamat bagi seluruh Mahasiswa UMN yang berprestasi! Teruslah berkarya bagi almamater, persada dan sesama! (LFP/RK)
*by Linda Febriana Purwanto – Universitas Multimedia Nusantara News Service
Kuliah di Jakarta untuk jurusan program studi Informatika| Sistem Informasi | Teknik Komputer | Teknik Elektro | Teknik Fisika | Akuntansi | Manajemen| Komunikasi Strategis | Jurnalistik | Desain Komunikasi Visual | Film dan Animasi | Arsitektur | D3 Perhotelan | International Program, di Universitas Multimedia Nusantara. www.umn.ac.id