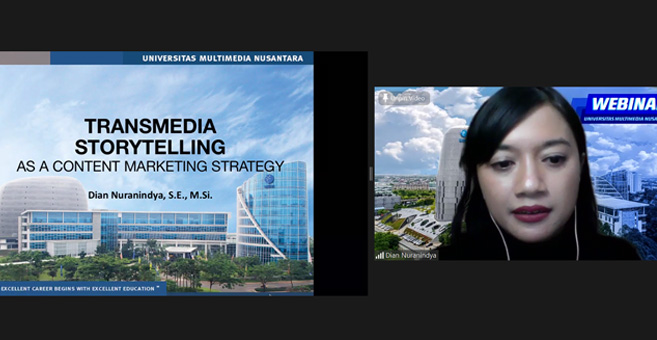 Webinar UMN: Strategi Transmedia Storytelling dalam Pemasaran
TANGERANG – Bagi perusahaan atau insan yang berkecimpung di dunia Marketing, strategi pemasaran menjadi penting dalam meningkatkan potensi untuk menghasilkan keuntungan terbaik. Saat ini, Transmedia Storytelling menjadi strategi pemasaran yang diminati perusahaan di bidang film, buku, game, dan politik. Melihat perkembangan tersebut, Fakultas Ilmu Komunikasi Universitas Multimedia Nusantara (FIKOM UMN) mengadakan webinar 'Transmedia Storytelling as a Content Marketing Strategy' pada Rabu (17/6). Webinar ini dibawakan oleh Dosen Marketing Communication&Creative Writing Dian Nuranindya dan dimoderatori oleh Dosen Mass Communication&Popular Culture Cendera Rizky.
Pada kesempatan tersebut, Dian mengungkapkan bahwa Transmedia Storytelling merupakan pengembangan dari konsep Integrated Marketing Communication. Konsepnya, cerita di buku, cerita di game dan cerita di film, menjadi suatu kepingan puzzle dan membentuk suatu universe cerita.
"Masing-masing media melengkapi untuk membentuk suatu cerita yang utuh. Kayak kita nyusun puzzle, kan gambar utuh yang sebenarnya baru bisa kita lihat kalau semua kepingannya sudah disusun," kata dosen yang juga penulis novel ternama berjudul Dealova ini.
Terdapat tiga kriteria utama dalam Transmedia Storytelling, diantaranya:
(1) Menggunakan multiple media sebagai sarana penyampaian pesan;
(2) Memiliki satu cerita utama sebagai universe; dan
(3) Menghindari redundansi antar media.
Dian juga memaparkan bahwa penyampaian pesan melalui storytelling menjadi hal yang penting, karena manusia senang dengan cerita, baik untuk menghibur, membujuk, atau menjelaskan sesuatu; Pikiran manusia tidak menyukai objek acak dan karenanya sering membuat cerita sendiri untuk memahami kejadian dari objek yang terpisah; Manusia secara alami dan sering secara tidak sadar telah menghubungkan kumpulan titik-titik yang membentuk suatu figur visual tertentu yang memiliki arti; Kisah-kisah hebat dapat memenangkan hati dan pikiran orang lain.
"Pada dasarnya kita semua senang mendengarkan cerita dan kita semua senang bercerita, karena setiap orang pasti punya cerita masing-masing di dalam hidupnya. Ini akan menjadi menarik karena orang merasa ada kedekatan ketika orang mendengar sebuah cerita," papar Dian.
Adapun alur dari Content Marketing Strategy secara berurutan terdiri dari: Goals Setting; Audience Mapping; Content Ideation&Planning; Content Amplification; Content Distribution; Content Creation; Content Evaluation; dan Content Improvement.
"Ada three stages of engagement dalam Transmedia Storytelling, engagement kepada audiens termasuk yang paling penting. Jadi, bagaimana audiens itu bisa masuk dan ikut serta dalam membangun suatu cerita itu," lanjutnya.
Three stages of engagement terdiri dari tahap Discovery di mana audiens akan pay attention dan akan mengevaluasi konten; Experience di mana audiens sudah mulai menyukai konten yang kita buat; serta Exploration di mana audiens bisa mengajak orang lain untuk ikut menikmati konten dan turut berkontribusi terhadap konten yang dibuat.
Adapun opsi yang dapat dipilih ketika si pembuat ingin mengembangkan cerita, diantaranya: menciptakan topik berbeda namun dengan latar lokasi dan karakter yang sama; menciptakan karakter baru namun latar lokasi dan waktu tetap sama; mengembangkan lokasi atau situasi baru dengan waktu dan karakter yang tetap; atau menciptakan latar waktu dan tempat baru namun dengan karakter tetap.
Webinar ini diikuti oleh 250 partisipan yang berasal kalangan akademisi, seperti dosen, guru dan mahasiswa, juga kalangan praktisi PR, jurnalis dan profesional lainnya. (VM/CRA)
*by Virino Miracle – Universitas Multimedia Nusantara News Service