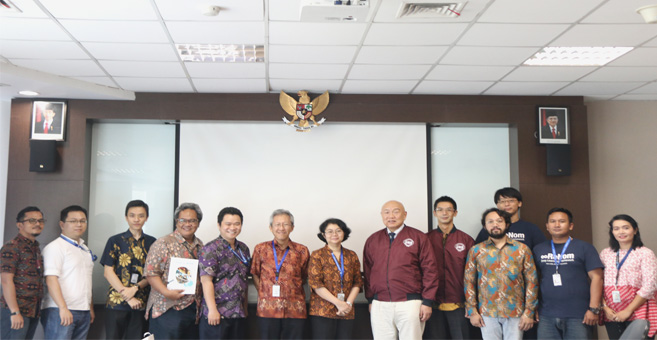 AOTS Jepang Tinjau Lab Artificial Intelligence UMN
TANGERANG – Menindaklanjuti kerjasama antara UMN dengan PT. Renom Infrastruktur Indonesia (RII), AOTS (The Association For Overseas Technical Scholarship) Jepang, melakukan kunjungan ke UMN untuk meninjau Laboratorium Artificial Intelligence (AI) UMN pada Jumat (14/12).
Hadir dalam kunjungan ini, Senior Managing Director of AOTS Mr. Joji Tateishi, Chief representative of AOTS Jakarta office Hayato Tanaka dan Direktur RII Febrian.
Laboratorium Artificial Intelligence (AI) UMN merupakan hasil kerjasama UMN dengan RIIxGRID Jepang yang diresmikan di UMN pada Selasa (4/9/18). Dalam kerjasama tersebut GRID Jepang juga melibatkan Asosiasi dan Kementerian di Jepang. Hal ini semakin mematangkan kebutuhan akan pembelajaran AI yang khusus dan terarah, karena kebutuhan pasar akan Data Scientist yang semakin meningkat dari hari ke hari.
Melalui kerjasama ini, mahasiswa UMN akan dilatih hingga menjadi Data Scientist yang siap bekerja. Mereka akan mengikuti program pelatihan data science gratis selama satu semester bernama Make-AI Class. Setelah lulus dari program Make-AI Class ini, mahasiswa UMN berkesempatan untuk magang atau kerja di Jepang.
Baca juga : Gandeng Perusahaan Jepang, UMN Luncurkan Laboratorium Artificial Intelligence
Senior Managing Director of AOTS Mr. Joji Tateishi mengungkapkan bahwa pihaknya sangat terbuka untuk mahasiswa UMN bekerja di Jepang.
"Sungguh menyenangkan bisa berkunjung ke UMN untuk melihat Laboratorium AI. Semoga mahasiswa UMN bisa melanjutkan bekerja di Jepang, karena kami sangat terbuka sekali untuk peluang kerja di Jepang," ungkap Mr. Joji.
Tidak hanya mengunjungi Lab AI, mereka juga mengunjungi laboratorium prodi Informatika UMN lainnya, seperti Render Farm Studio, Lab. Game Development, Lab. Mobile Development, Lab. Manajemen Jaringan, serta tech incubator UMN, Skystar Ventures.
Sekretaris Program Studi Informatika UMN Arya Wicaksana mengatakan kunjungan AOTS ke UMN untuk mengetahui dukungan yang diberikan Perusahaan Jepang kepada UMN begitu pun sebaliknya. Arya berharap, UMN menciptakan lulusan yang sesuai dengan tujuan masa depan dan dapat bekerja tidak hanya di industri Indonesia melainkan juga di industri Jepang.
"Dengan kerjasama ini, saya harap lulusan UMN dapat berkembang di era industri 4.0, data science dan AI, serta tidak hanya bekerja di industri Indonesia melainkan juga di Industri Jepang," kata Arya.
Sementara itu, Direktur RII Febrian juga menjelaskan kurikulum inovatif yang dipersiapkan untuk mahasiswa UMN.
"Tidak sembarang SDM. Kami mempersiapkan mahasiswa UMN untuk dilatih dalam teknologi kecerdasan buatan terdepan melalui kurikulum khusus inovatif yang tepat guna (Make-AI: learn, built, use) dan membangun skill mereka untuk menjadi tenaga ahli Data Scientist yang siap bekerja di industri teknologi terdepan," tutup Febrian. (MA/CRA)
*by Merry Arliany – Universitas Multimedia Nusantara News Service
Kuliah di Jakarta untuk jurusan program studi Informatika| Sistem Informasi | Teknik Komputer | Teknik Elektro | Teknik Fisika | Akuntansi | Manajemen| Komunikasi Strategis | Jurnalistik | Desain Komunikasi Visual | Film dan Animasi | Arsitektur | D3 Perhotelan | International Program, di Universitas Multimedia Nusantara. www.umn.ac.id