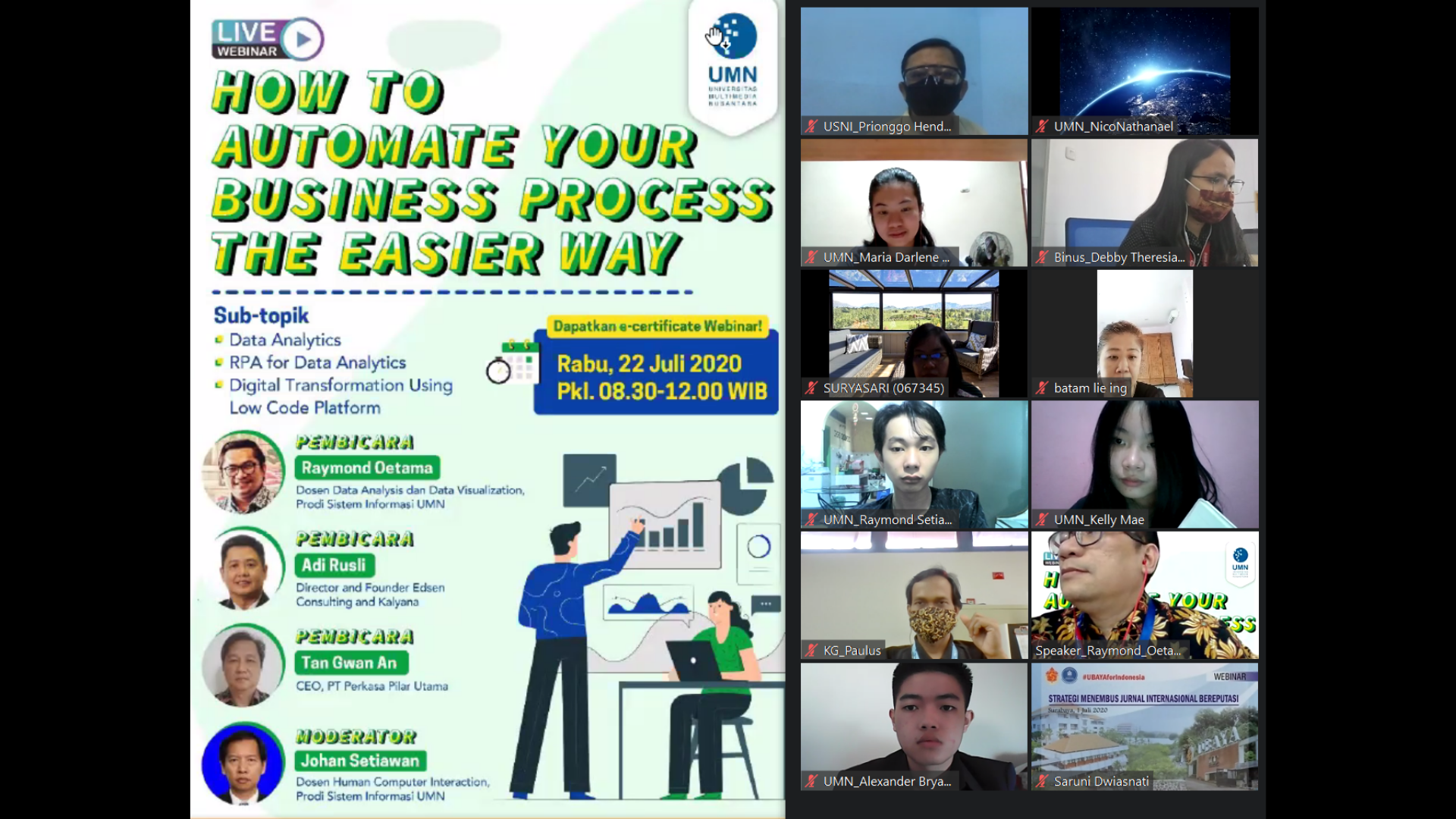 Webinar FTI UMN: Automasi untuk Memudahkan Adaptasi Transformasi Bisnis
TANGERANG – Fakultas Teknik dan Informatika (FTI) Universitas Multimedia Nusantara menyelenggarakan webinar bertajuk "How to Automate Your Business Process the Easier Way", Rabu (22/7). Webinar yang berdurasi lebih dari tiga jam ini dimoderatori oleh Johan Setiawan selaku Dosen Human Computer Interaction Program Studi Sistem Informasi UMN.
Terdapat tiga subtopik utama yang didiskusikan, yaitu "Data Analytics" oleh Dosen Data Analysis dan Data Visualization Program Studi Sistem Informasi UMN, Raymond Oetama; "RPA for Data Analytics" oleh Director and Founder Edsen Consulting and Kalyana, Adi Rusli; dan "Digital Transformation Using Low Code Platform" oleh CEO PT Perkasa Pilar Utama, Tan Gwan An.
Peran Data Analytics, Mempermudah Pengambilan Keputusan Bisnis
Dosen Data Analysis dan Data Visualization Program Studi Sistem Informasi UMN, Raymond Oetama mengatakan era saat ini memungkinkan semua data menjadi tercatat – silicon age. Akibatnya, kuantitas dan format data pun menjadi banyak dengan kecepatan yang sangat tinggi. Data-data ini turut berperan penting mempengaruhi dalam ragam pengambilan keputusan, misalnya untuk para pebisnis.
"Susah juga menyimpan data yang banyak itu. Kemudian, juga ada challenging yang lebih hebat lagi adalah bagaimana kita bisa menganalisis data sebanyak itu. Makanya perlu kita menganalisa big data itu," papar Raymond.
Menurutnya, ada banyak bisnis yang telah memanfaatkan big data, contohnya credit card company, mobile phone company, Facebook company. Selain itu, sumber data pun sudah dapat diperoleh dari beragam hal, seperti media sosial, CCTV, pencitraan media, pengurutan gen, dan masih banyak lagi.
Dalam sesi ini, Raymond juga menjelaskan ragam struktur data, peranan tokoh kunci dalam ekosistem big data, dan aktivitas kerja (framework) data analisis. Secara sederhana, ia menjelaskan beberapa aktivitas yang dilakukan data analis, mulai dari me-reframe business challenges – kebutuhan perusahaan – menjadi  analytics challenges, mendesain hingga mengevalusasi pemodelan bisnis.
"Setelah itu mereka baru dapat insight dari hasil analisis itu. Kemudian, (data analis) membuat rekomendasi yang bisa di actionable untuk selanjutnya bagi para atasan bisa memutuskan," lanjutnya.
Di sesi akhir pemaparannya, Raymond juga menjelaskan beberapa metode analisis data serta contohnya. Beberapanya metodenya seperti clustering, hierarchy, association rules, dan regression.
Robotic Process Automation (RPA): Solusi Automasi untuk Bisnis
Sesi kedua dalam webinar ini dilanjutkan oleh Director and Founder Edsen Consulting and Kalyana, Adi Rusli yang membahas "RPA for Data Analytics". Kata "robotic" dalam Robotic Process Automation (RPA) sering kali dibayangkan dalam bentuk fisik, seperti di film "Transformer" – padahal tidak seharusnya demikian. Adi menjelaskan RPA adalah perangkat lunak (software) yang dapat dikonfigurasi, terutama untuk meniru pekerjaan manusia saat berinteraksi dengan sistem komputer. Kini, RPA menjadi salah satu solusi automasi yang sedang naik daun di era transformasi bisnis ini.
"Siapa yang tidak mengenal dan tidak siap akan RPA dalam kancah kompetisi di dunia industri, mereka akan tertinggal," tegas Adi.
Dari segi keuntungan, Adi mengatakan RPA mampu menekan pengeluaran biaya yang tinggi, tetapi tetap menghasilkan tingkat produktivitas yang tinggi. Dalam pengaplikasiannya, RPA cocok untuk proses automasi yang berulang-ulang dan bervolume besar. Selain itu, menurutnya, RPA juga lebih baik diterapkan pada proses bisnis yang sudah memiliki aturan (rule based). Meski demikian, ia mengatakan RPA tidak berarti dapat diterapkan dalam semua bisnis.
"RPA tidak bisa diaplikasikan ke semua proses bisnis. Ada beberapa kriteria, jenis proses, mature dari proses yang memang cocok untuk di-RPA-kan," ujarnya.
Kemudian, terkait analisis data, Adi menjelaskan RPA dapat digunakan untuk proses pengumpulan data, klasifikasi data, pembersihan data, ataupun untuk proses penggunaan data. Pada akhir materinya, ia turut menanyangkan demontrasi sederhana tentang cara pengaplikasian RPA.
Low Code: Software untuk Membuat Software Secara Efisien
"Digital Transformation Using Low Code Platform" adalah tema terakhir yang dibahas oleh CEO PT Perkasa Pilar Utama, Tan Gwan An dalam webinar ini. Menurut Tan Gwan An, Low Code dapat menjadi solusi bagi pebisnis untuk beradaptasi di era transformasi digital yang serba cepat ini. Adapun ia mengartikan Low Code sebagai software kumpulan alat dan teknik yang memudahkan developer untuk membuat aplikasi secara efisien. Melalui software ini, developer dapat membuat software – untuk website, android, iOS – yang tidak terbatas dan cepat dengan teknik drag and drop – peng-coding-an yang lebih sedikit.
"Jadi, ya memang tempat-tempat yang memang spesifik untuk membuat sebuah aplikasi yang agak rumit dan mungkin butuh formula itu baru kita (akan) menggunakan scripting atau coding," jelas Tan Gwan.
Karena itu, Tan Gwan An mengatakan Low Code dapat meminimalkan terjadinya kesalahan fatal oleh developer. Selain itu, ia juga memaparkan beberapa keuntungan lainnya dari menggunakan Low Code, seperti meningkatkan produktivitas dan fleksibilitas. Dengan demikian, menurutnya, developer akan mudah belajar dan mengembangkan teknologi yang mendukung bisnis di masa depan.
Akan tetapi, ia mengatakan bahwa Low Code juga memiliki keterbatasan. Meskipun Low Code cocok untuk membuat segala jenis aplikasi, Tan Gwan An mengecualikan penggunaannya untuk membuat gim. Ia mengatakan para pebisnis harus terus mengintegrasikan dan mengembangkan aplikasi dari Low Code dengan teknologi lainnya.
"Jadi, itu salah satu keterbatasan Low Code adalah tidak untuk membuat games. Karena itu, (kita) membutuhkan platform yang lain," jelasnya. (MC/SN)
* by Melinda Chang – Universitas Multimedia Nusantara News Service
Kuliah di Jakarta untuk jurusan program studi  Informatika | Sistem Informasi  | Teknik Komputer  | Teknik Elektro  | Teknik Fisika  | Akuntansi  | Manajemen | Komunikasi Strategis  | Jurnalistik  | Desain Komunikasi Visual  | Film dan Animasi  | Arsitektur  | D3 Perhotelan  | Program Internasional , di  Universitas Multimedia Nusantara . www.umn.ac.id