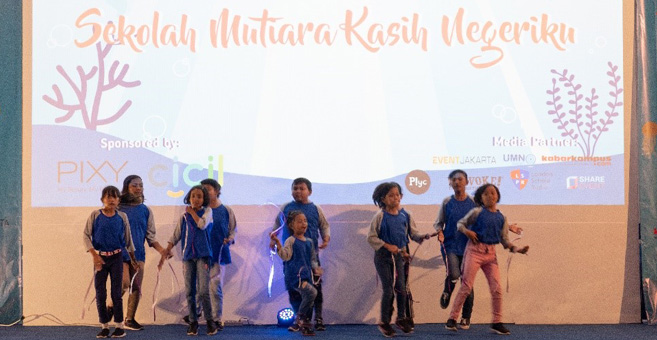 Rumpin Gelar Konser Penggalangan Dana untuk Sekolah Mutiara Kasih Negeriku
TANGERANG – Lembaga Semi Otonom (LSO) UMN Rumpin menggelar acara penggalangan dana bertajuk A Night with INARA. Acara ini bertujuan untuk memajukan pendidikan bagi anak kurang mampu di sekolah Mutiara Kasih Negeriku yang diselenggarakan di Function Hall UMN pada Senin (11/11).
Konser penggalangan dana "A Night with INARA" merupakan puncak dari INARA 2019. Konser ini dibuka dengan kata sambutan dari Wakil Rektor III UMN Ika Yanuarti.
Pada kesempatan ini Ika menyampaikan rasa bangganya atas terselenggaranya acara ini.
"Saya sangat bangga dengan Rumpin yang telah menyelenggarakan acara ini. Tidak banyak mahasiswa era sekarang yang masih memikirkan sesama. Namun, Rumpin hadir agar mahasiswa bisa berlatih mengembangkan semangat sosial" ujar Ika.
Konser INARA dibanderol dengan harga tiket masuk sebesar Rp.35,000 sampai dengan Rp.50,000. Semua keuntungan dari konser penggalangan dana ini nantinya akan diberikan sepenuhnya kepada Sekolah Mutiara Kasih Negeriku yang terletak di Penjaringan, Jakarta Utara.
Jovin, salah satu perwakilan guru dari Sekolah Mutiara Kasih Negeriku juga hadir dalam A Night INARA 2019 untuk menyampaikan terima kasih atas donasi yang telah diberikan demi menunjang keberlangsungan Sekolah Mutiara Kasih Negeriku.
"Saya mewakili seluruh guru yang mengajar dan murid-murid yang diajar ingin mengucapkan terima kasih kepada INARA karena masih memperhatikan pendidikan siswa-siswi kami, semoga acara ini dapat berjalan dengan lancar dan bermanfaat" tutur Jovin.
Konser A Night with INARA menghadirkan berbagai penampil dari kalangan mahasiswa UMN. Salah satunya ada penampilan dari unit kegiatan mahasiswa (UKM) Street Dance dan Qorie.
Selain penampilan dari mahasiswa UMN, siswa-siswi dari Sekolah Mutiara Kasih Negeriku juga turut tampil dalam acara INARA 2019.
Konser INARA ditutup oleh penampilan dari bintang tamu utama Petrus Mahendra yang menyanyikan beberapa lagu. Para penonton yang hadir di acara A Night with INARA sangat antusias dan maju ke depan panggung untuk bernyanyi bersama Petrus Mahendra. (JN/RK)
*by Junelia Novi – Universitas Multimedia Nusantara News Service
Kuliah di Jakarta untuk jurusan program studi Informatika| Sistem Informasi | Teknik Komputer | Teknik Elektro | Teknik Fisika | Akuntansi | Manajemen| Komunikasi Strategis | Jurnalistik | Desain Komunikasi Visual | Film dan Animasi | Arsitektur | D3 Perhotelan | International Program, di Universitas Multimedia Nusantara. www.umn.ac.id