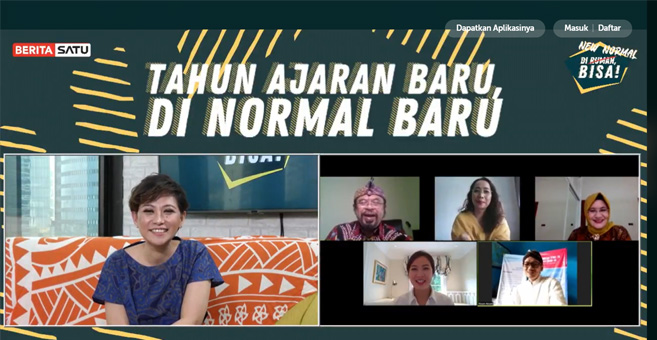 Pendidikan di Normal Baru, Ninok Leksono: The Show Must Go On
T

ANGERANG – Kegiatan belajar mengajar harus terus berjalan di era pandemi COVID-19, tetapi juga tidak melupakan keamanan setiap orang. Hal tersebut disampaikan oleh Rektor Universitas Multimedia Nusantara (UMN) Ninok Leksono saat menjadi narasumber dalam acara "Di New Normal, Bisa!: Tahun Ajaran Baru di Normal Baru" pada Jumat (12/6). Acara ini disiarkan secara langsung oleh Berita Satu (via Youtube, Twitter, Facebook) dan dipandu oleh Chakry Miller.
Salah satu bentuk antisipasinya, Ninok mengungkapkan bahwa UMN sudah membentuk gugus tugas COVID-19.
"Prinsipnya itu the show must go on. Tetapi, must go on-nya itu aman, ya. Aman dan produktif ini berjalan beriringan. Jangan sampai institusi atau lembaga pendidikan menjadi klaster pandemi ini," ujar Ninok.
Dalam kesempatan yang sama, Direktur Jenderal Pendidikan Tinggi Kementerian Pendidikan dan Kebudayaan Nizam turut menekankan pentingnya isu keselamatan ini.
"Tidak ada tawar-menawar tentang itu. Nomor satu itu kesehatan dan keselamatan dari seluruh sivitas akademika perguruan tinggi atau guru, siswa, dan tenaga administrasi di sekolah-sekolah. Itu protokol utama kita. Komandan utama kita saat ini adalah gugus tugas. Jadi, harus patuh dengan apa yang dikomandokan oleh gugus tugas," tegas Nizam.
Apalagi saat ini perguruan tinggi tengah mendekati periode penerimaan calon mahasiswa baru. Strategi penanganan dan pembelajaran saat COVID-19 pun perlu menjadi diskusi lebih mendalam. Bahkan pada tahun ini, Ninok menyebutkan bahwa UMN telah menjaring sekitar 2.200-an calon mahasiswa baru. Meskipun akan banyak tantangannya, Ninok mengatakan UMN tetap optimis mendorong semangat belajar.
"Kalau ada masalah finansial itu, kami menunjukkan namanya kampus penuh empati. Kampus yang mengerti mengenai masalah calon mahasiswa. Enggak usah dipikir (masalah finansial), yang penting semangat belajarnya," kata Ninok.
Nizam pun mengapresiasi hal ini. Ia senang bahwa banyak perguruan tinggi yang telah bersiap dan berempati menghadapi COVID-19. Menurutnya, salah satu kunci memerangi COVID-19 adalah sikap gotong royong.
"Gotong royong adalah akar budaya kita dan itu adalah kunci survival kita. Insya Allah dengan bergotong royong, bergandengan tangan, semua tetap optimis, kita akan segera mengatasi pandemi dan muncul kekuatan yang lebih baik lagi ke depan. Tetap semangat, tetap sehat," tutup Nizam.
Salah satu Perguruan Tinggi Swasta di Jakarta pun menyuarakan pendapat yang serupa. Keselamatan dan kesehatan menjadi perhatian utama para akamedisi di era wabah COVID-19 ini.(MC/CRA)
*by Melinda Chang – Universitas Multimedia Nusantara News Service