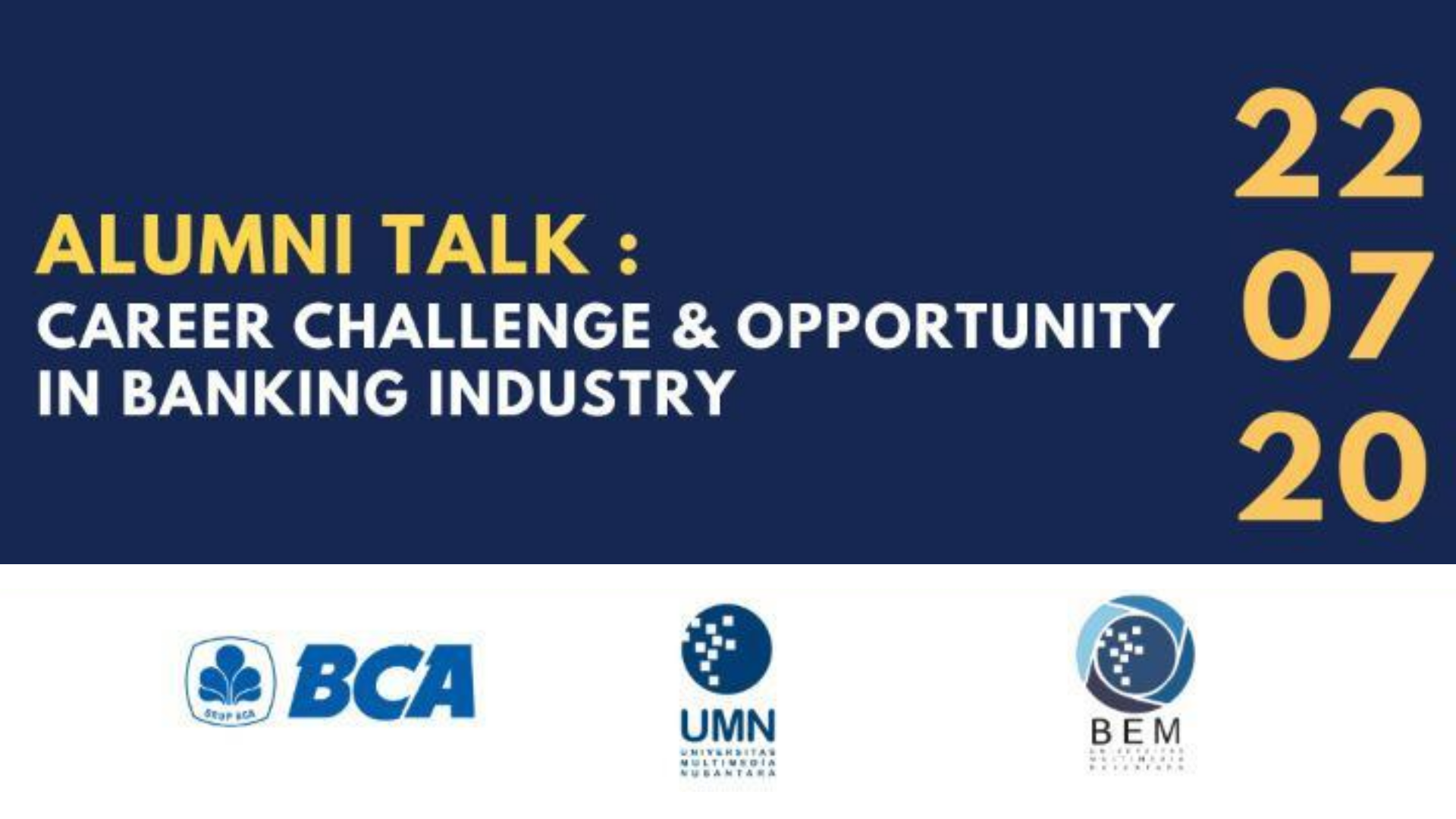 Alumni Talk: Career Challenge and Opportunity in Banking Industry
TANGERANG – Badan Eksekutif Mahasiswa Universitas Multimedia Nusantara (BEM UMN) bekerjasama dengan BCA mengadakan Webinar "Alumni Talk: Career Challenge and Opportunity in Banking Industry!" pada Rabu (22/7) via platform Zoom Meetings. Webinar ini mengundang Bonaventura Aditya – IT Analyst BCA (Alumnus Teknik Informatika UMN 2012) dan Isabella Agustiani – Marketer BCA (Alumnus Ilmu Komunikasi UMN 2013) sebagai pembicara dan ditemani  Leoni Angela – BEM UMN sebagai moderator.
Di awal sesi, kedua pembicara memberikan pandangannya terkait pengalamannya bekerja. Menurut Bonaventura, modal untuk terjun ke dunia profesional cukup sederhana. "Yang paling utama yang dibutuhin adalah open minded, mau belajar, dan mau adaptasi. Karena basically, tiap hari pasti ada hal baru sehingga jika kita membentengi diri terhadap itu, agak susah ke depannya, bukan cuma di BCA," sebut pria yang akrab disapa 'Bona' ini.
Ia mengatakan bahwa untuk menjadi pribadi yang open minded memang harus berangkat dari mental dan niat diri sendiri. Isabella turut menambahkan pandangannya, menurut Isabella: para calon pencari kerja juga harus memiliki sifat fleksibel dan dapat bekerjasama dengan tim dengan baik. "Kita juga harus lebih responsif dan mau memberikan ide-ide kreatif," tambah Isabella.
Isabella mengatakan bahwa mengikuti banyak kegiatan kampus dan terlibat dalam organisasi juga merupakan hal yang penting karena memberi dampak positif seperti melatih kita untuk beradaptasi di dunia kerja. Di dalam dunia kerja, pasti ada tujuan bersama yang harus dicapai bersama-sama pula. Oleh karena itu, koordinasi dan komunikasi antar-personel tim juga sangat penting demi tercapainya tujuan bersama. Serupa dengan pandangan Bonaventura, kegiatan kemahasiswaan pun juga dapat menjadi sarana pelepas kepenatan.
"Kalau kita di sini bener-bener kekeluargaan, dan kita punya visi yang sama. Kita juga punya tagline 'One BCA'. Karena kita kan ada di industri perbankan yang intinya adalah pelayanan," tambah Bona.
Bonaventura juga membagikan pengalaman yang ia rasakan selama bekerja hampir 5 tahun di BCA. Menurutnya, ia tidak merasakan kompetisi tidak sehat antar karyawan. Bahkan, setiap personel yang ada di BCA sangatlah suportif satu sama lain. Ia juga menjelaskan bagaimana caranya supaya hal tersebut bisa terwujud di tempatnya bekerja.
"Tapi memang BCA juga punya sistem buat kayak gitu. Jadi misalnya kalian baru join, itu pasti ada programnya. Ada Mentor-Mentee, ada coaching, dan lain-lain. Nah hal-hal itu yang bener-bener ngebangun kita untuk jadi satu keluarga dan punya visi yang sama," jelasnya.
Bagi Isabella, nilai yang tinggi di perkuliahan juga turut memberi peluang lebih tinggi untuk diterima di suatu perusahaan. Namun disamping itu, tahap wawancara dan psikotes juga memiliki peran krusial karena pada tahap tersebut para pelamar kerja dapat menyampaikan seberapa besar komitmennya terhadap suatu perusahaan tersebut.
"IP (Indek Prestasi) itu memang penting untuk lolos seleksi awal. Tapi ketika sudah di dalam, yang lebih penting menurut aku adalah personality. Jadi kepribadian dan karakter yang bisa bekerjasama, jujur, gak curang, dan lain-lain," sambung Bona.
Isabella menjelaskan bagaimana ia bergabung dengan BCA. Ia bergabung melalui program 1 tahun training yang terdiri dari 6 bulan di kelas dan 6 bulan magang. Proses training ini pula yang menjadikan para calon karyawan menjadi lebih menguasai bidangnya di divisi yang akan dituju. Ia pun turut membagikan kesannya sebagai karyawan di BCA selama masa pandemi berlangsung. Baginya, menjadi bagian dari BCA sangatlah terjamin dan sejahtera, karena BCA tak hanya mementingkan nasabah tapi juga semua karyawannya.
"Jadi kita sejak Maret hingga akhir Juni kan sangat dibatasi mobilitasnya. Jadi kemarin selama itu seluruh karyawan BCA dapet lunch tiap hari gratis dari BCA diantar ke rumah masing-masing. Jadi kita ga perlu repot-repot mikir mau makan apa tiap hari," jelas Bella melengkapi. (VM/SN)
by Virino Miracle – Universitas Multimedia Nusantara News Service
Kuliah di Jakarta untuk jurusan program studi  Informatika | Sistem Informasi  | Teknik Komputer  | Teknik Elektro  | Teknik Fisika  | Akuntansi  | Manajemen | Komunikasi Strategis  | Jurnalistik  | Desain Komunikasi Visual  | Film dan Animasi  | Arsitektur  | D3 Perhotelan  | Program Internasional , di  Universitas Multimedia Nusantara . www.umn.ac.id