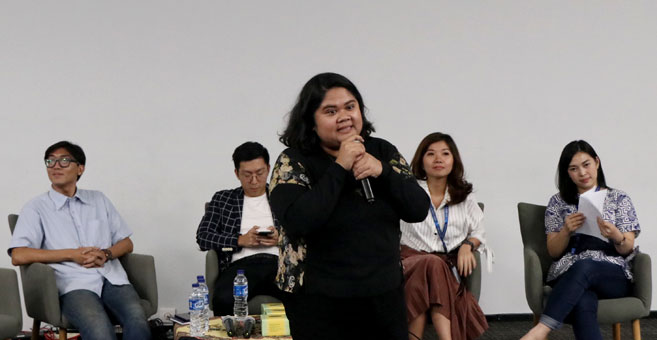 Stairway to Success for Gen-Z: Building Career with Knowledge and Attitude
TANGERANG – Program Studi Komunikasi Strategis Universitas Multimedia Nusantara (UMN) kembali mengadakan seminar penjurusan bagi para mahasiswa angkatan 2017 yang akan dilaksanakan pada Rabu, 10 April 2019 di Lecture Theater, gedung D, UMN. Seminar penjurusan dilakukan agar mahasiswa memiliki pengetahuan terkait dengan peminatan yang akan dipilih. Hal ini dimaksudkan agar mereka dapat mengembangkan potensi dirinya secara maksimal dan mengetahui profesi/karier yang akan dipilihnya serta kompetensi yang dipersyaratkan dalam karier tersebut. Mahasiswa yang mengikuti seminar ini merupakan mahasiswa semester 4 yang akan menentukan pemilihan peminatan pada semester 5.
Baca juga : Seminar Peminatan Prodi Komunikasi Strategis UMN
Program Studi Komunikasi Strategis sendiri memiliki dua peminatan, yaitu Komunikasi Korporat (Corporate Communication) dan Komunikasi Pemasaran (Marketing Communication). Kedua bidang peminatan tersebut masih sangat relevan dan dibutuhkan oleh dunia industri saat ini. Terutama jika melihat perkembangan teknologi komunikasi dan Internet saat ini yang memungkinkan perusahaan berkomunikasi dengan audiensnya kapan saja dan di mana saja. Perkembangan ini tentunya turut memberikan pengaruh bagi perusahaan dalam merancang strategi pesan maupun saluran penyampaian pesan tersebut agar lebih efektif dan diterima dengan baik oleh audiens. Di samping kompetensi yang harus dimiliki sebagai bekal untuk mulai berkarir, mahasiswa juga perlu belajar dari pengalaman nyata (keberhasilan dan hambatan), serta attitude yang harus dimiliki agar dapat sukses baik di dunia profesional maupun entrepreneur.
Berdasarkan fenomena tersebut, seminar ini mengambil tema "Stairway to Success for Gen-Z: Building Career with Knowledge and Attitude". Untuk dapat mencapai tujuan diadakannya acara ini, Program Studi Komunikasi Strategis mengundang para alumni UMN dari Fakultas Ilmu Komunikasi yang diharapkan dapat memberikan tidak hanya pengetahuan namun juga motivasi dan inspirasi bagi mahasiswa sebelum mereka menentukan pilihan konsentrasi. Adapun para alumni yang akan menjadi narasumber dalam acara ini adalah Olivia Rosary yang merupakan Associate Manager di Publicis Media, Kevin Loe sebagai Copywriter di Milestone Integrated Marketing Solutions, Nathania Mulia yang merupakan Public Relations Officer pada Kompas Group, dan Wilson Tjandra sebagai Founder dan CEO dari @Burgushi.id.
Baca juga : Seminar Peminatan untuk Mahasiswa Strategic Communication 2016
Oleh karena itu, melalui seminar penjurusan ini  diharapkan mahasiswa tidak hanya memiliki pengetahuan mengenai kompetensi yang harus mereka miliki, namun juga memberikan motivasi dan inspirasi sebelum mahasiswa menentukan pilihan peminatan. (CRAB)
*by Cendera Rizky Anugrah Bangun – Strategic Communication Dept.
Kuliah di Jakarta untuk jurusan program studi Informatika| Sistem Informasi | Teknik Komputer | Teknik Elektro | Teknik Fisika | Akuntansi | Manajemen| Komunikasi Strategis | Jurnalistik | Desain Komunikasi Visual | Film dan Animasi | Arsitektur | D3 Perhotelan | International Program, di Universitas Multimedia Nusantara. www.umn.ac.id