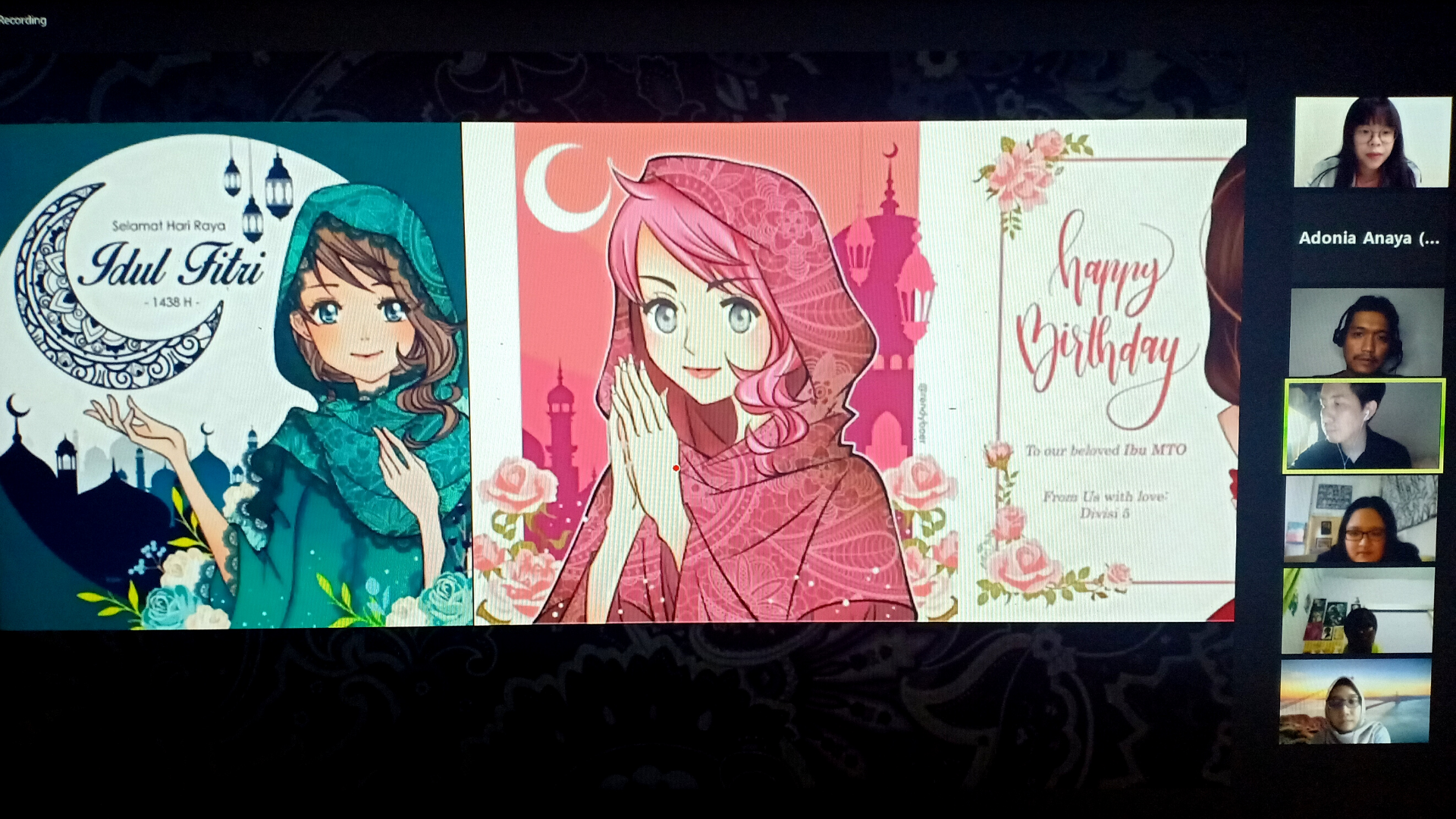 Menciptakan Penokohan dengan Character Coloring
TANGERANG – Warna adalah komponen yang penting dalam penokohan suatu karakter visual. Warna akan memberikan kesan dan menyampaikan kepribadian tertentu. Hal tersebut disampaikan oleh Luisa Erica, moderator sekaligus pembicara dalam Webinar bertajuk "Character Coloring" pada Jumat, 17 Juli 2020. Acara ini merupakan rangkaian kolaborasi dari Laboratorium Fakultas Seni Desain (FSD) Universitas Multimedia Nusantara dengan Wacom dan Grandtech Indonesia.
Pembicara pada webinar kali ini adalah Rendy Burhan, Business Development Manager dari Grandtech Indonesia dan Ilustrator  dengan subtopik "Simple Character Coloring using Clip Studio Paint". Selain menjadi moderator, Luisa Erica selaku Dosen DKV UMN juga membahas subtopik "The Basics of Character Coloring". Webinar yang terbuka untuk umum ini dihadiri oleh lebih dari 50 orang.
Acara dibuka dengan pemaparan materi singkat mengenai "The Role of Color in Character Design" yang membantu peserta mengetahui fungsi warna dalam penokohan. Menurut Luisa Erika, langkah awal sebelum membangun sebuah  karakter dan memberika warna  adalah menentukan color pallete. "Dengan menentukan warna, kita dapat lebih mudah mengidentifikasi sifat dan karakteristik dari tokoh yang kita ciptakan. Selain menciptakan karakter khusus, warna juga bisa menyatukan karakter menjadi satu kesatuan,"ungkapnya. Teknik menentukan warna juga dipakai oleh beberapa orang untuk menyampaikan isi cerita atau pesan dalam storytelling.
Setelah pemaparan singkat materi dasar, Rendy Burhan melanjutkan menyampaikan materi dan memandu sesi praktik Character Coloring. Sebelumnya ia menjelaskan, PT. GrandTech System Indonesia adalah perusahaan yang bergerak dalam bidang kebutuhan teknologi IT yang juga merupakan distributor resmi  dari produk-produk Wacom Indonesia yang dikhususkan memenuhi kebutuhan edukasi dan industri kreatif. Selain Wacom, PT. GrandTech System Indonesia juga menyediakan berbagai software kreatif, salah satunya adalah aplikasi Clip Studio Paint.
"Clip Studio Paint adalah software buatan perusahaan Jepang yang berfungsi untuk pembuatan ilustrasi, komik dan 2D animasi. Biasanya banyak orang menggunakan Adobe Photoshop untuk memberikan warna pada ilustrasi. Kelebihan Clip Studio Paint dibandingkan Photoshop dalam mewarnai ilustrasi terletak pada pen pressure lebih terasa sehingga dapat memberikan warna yang lebih detail," jelas Rendy Burhan yang juga seorang ilustrator dan komikus.
Dalam sesi praktik "Character Coloring", panitia penyelenggara juga sudah mengirimkan file soft copy berisi ilustrasi karakter "Aryasetya" ciptaan Randy Burhan atau yang sering disapa Rendyboer. Rendy juga memberikan arahan mengenai alat apa saja yang harus digunakan dan perpaduan warna yang dapat diaplikasikan dalam Clip Studio Paint. Peserta dapat mencoba mewarnai karakter dengan Clip Studio Paint atau Photoshop untuk merasakan perbedaan dari kedua aplikasi tersebut. Sembari mempraktikan "Character Coloring", Rendy menjawab pertanyaan dari partisipan.
Diakhir acara, peserta diminta untuk mengunggah karya di sosial media untuk mendapatkan apresiasi dari Rendy Burhan. "Character Coloring adalah soal kesabaran dan terus berusaha agar terbiasa. Untuk kalian yang suka menggambar dan membuat komik jangan berhenti untuk belajar," pesan Rendy. (AN/SN)
by Adonia Naya – Layanan Berita Universitas Multimedia Nusantara
Kuliah di Jakarta untuk jurusan program studi   Informatika  | Sistem Informasi   | Teknik Komputer   | Teknik Elektro   | Teknik Fisika   | Akuntansi   | Manajemen  | Komunikasi Strategis   | Jurnalistik   | Desain Komunikasi Visual   | Film dan Animasi   | Arsitektur   | D3 Perhotelan   | Program Internasional  , di   Universitas Multimedia Nusantara  . www.umn.ac.id