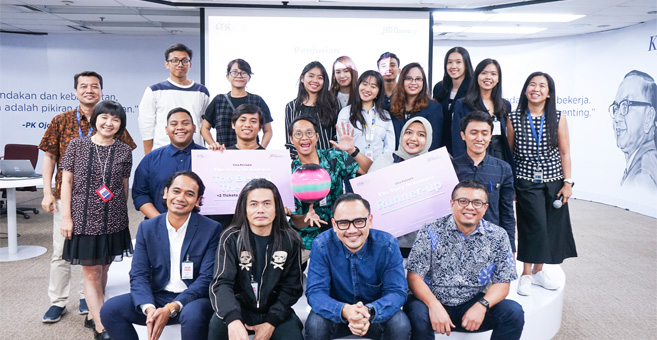 #KompasYOUTHExperience Karya Mahasiswa UMN Menjadi Runner-Up di Citra Pariwara 2018
TANGERANG – Menutup tahun 2018, mahasiswa Universitas Multimedia Nusantara (UMN) kembali mengukir prestasi. Suatu perencanaan komunikasi kekinian berjudul #KompasYOUTHExperience berhasil menjadi Runner-Up di Citra Pariwara 2018.
Kompetisi karya iklan bergengsi dari Persatuan Perusahaan Periklanan Indonesia ini memiliki tema studi kasus bertajuk "The Story of Kompas". Para peserta ditantang untuk membuat perencanaan komunikasi kekinian untuk brand Kompas, yaitu Harian Kompas, Kompas.com dan Kompas TV yang selama ini dikenal mature, agar lebih akrab dengan generasi milenial.
Mahasiswi program studi (prodi) Strategic Communication UMN Nadya Ingrida meidiyanti (angkatan 2015) dan Tiffany Amelia (2016) membuat suatu kampanye berjudul #KompasYOUTHExperience.
"Judul dari campaign kita adalah #KompasYOUTHExperience yang mengajak anak muda 'experience' Kompas melalui teknologi masa kini. Kita cari cara bagaimana ajak anak muda untuk terlibat sama Kompas yang mungkin kalau kita personifikasikan adalah pria berumur di atas 50 tahun, yang cerdas, inovatif dan berjiwa muda," jelas Nadya.
Baca juga : Kompetisi The Story of Kompas 2018: Suara Laras Anak Muda (SLAM) Menangkan Tiket AdFest 2019 ke Pattaya
Setelah mendapatkan "sosok" Kompas, Nadya dan Tiffany mencari berbagai ide-ide yang menarik perhatian anak muda. Mereka mencoba menggabungkan nilai-nilai Kompas dengan teknologi yang bermunculan seperti Artificial Intelligence, Virtual Reality (VR) dan Augmented Reality (AR).
"Jadi, setelah kita tau sosok Kompas, kita pilih strateginya (create brand experience to influencer new culture) dan pilih taktiknya. Muncul deh nama #KompasYOUTHExperience ini. Kita manfaatin media sosial, digital ads dan teknologi VR untuk ajak anak muda ngerasain Kompas, seperti melalui simulasi berita, ajak anak muda diskusi isu di media sosial, seperti itu," jelas Nadya.
Baca juga : Mahasiswa UMN Terima Beasiswa Indonesia Cerdas BRI 2018 Senilai 125 Juta Rupiah
Pada kesempatan yang sama, Tiffany mengungkapkan bahwa ia dan Nadya senang mendapatkan pengalaman dalam kompetisi ini. Ia juga mengajak teman-teman mahasiswa lainnya untuk selalu mencoba hal baru.
"Seneng banget bisa mendapatkan kesempatan ini, bisa menambah pengalaman juga. Pokoknya, teman-teman jangan takut untuk mencoba hal baru di luar zona nyaman kita. Tetap optimis ya!," tutup Tiffany.
Peserta kompetisi Citra Pariwara 2018 mengirimkan materi kompetisi paling lambat pada 14 Desember 2018. Lima peserta terbaik diumumkan pada 17 Desember 2018 dan diminta untuk mempresentasikan ide mereka di Gedung Kompas Gramedia, Palmerah Selatan pada Selasa (18/12/18).
Adapun juri dalam kompetisi Citra Pariwara 2018 adalah Charli Aziz (Ketua Persatuan Perusahaan Periklanan Indonesia), Ratna Puspita (Executive CD Bates CHI & Partners yang pada Januari 2019 efektif sebagai CCO Fortune Indonesia), Hari Hoedojo (Chief Digital Officer Mullenlowe Indonesia), Dr. M Faisal (Founder YouthLab Indonesia), dan Jay Subyakto (Film Director). (CRA)
*by Chininta Rizka Angelia – Universitas Multimedia Nusantara News Service
Kuliah di Jakarta untuk jurusan program studi Informatika| Sistem Informasi | Teknik Komputer | Teknik Elektro | Teknik Fisika | Akuntansi | Manajemen| Komunikasi Strategis | Jurnalistik | Desain Komunikasi Visual | Film dan Animasi | Arsitektur | D3 Perhotelan | International Program, di Universitas Multimedia Nusantara. www.umn.ac.id