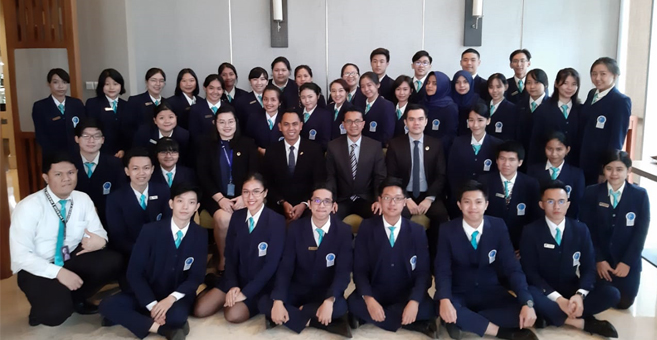 Beri Pembekalan Bagi Mahasiswa, Perhotelan UMN Selenggarakan Hotel Tour and Table Manner Batch II
TANGERANG – Program Studi (Prodi) Perhotelan Universitas Multimedia Nusantara menyelenggarakan "Hotel Tour and Table Manner Batch II". Hotel Tour and Table Manner Batch II ini diselenggarakan di Hotel Santika Ice Premiere BSD pada Selasa (26/2).
Program hotel tour dan table manner ini diikuti oleh semester 2 Perhotelan UMN. Mahasiswa Perhotelan UMN didampingi oleh  Oqke Prawira, S.ST., M.Si.Par., selaku Ketua Program Studi Perhotelan UMN, Yoanita Alexandra S.E., B.A, M.Par., dan Kevin Juliawan Surya, S.E., B.A., selaku perwakilan dosen Perhotelan UMN .
Pada sesi hotel tour, mahasiswa semester dua Perhotelan UMN diajak berkeliling untuk melihat fasilitas yang ada di hotel Santika Premiere BSD. Menurut Yoanita selaku dosen Perhotelan UMN, sesi hotel tour dilakukan untuk memberi pengetahuan mengenai dunia perhotelan kepada mahasiswa Perhotelan UMN semester dua sebelum melakukan program magang di semester tiga nanti.
"Tujuannya pengenalan supaya mereka nggak kaget ketika mereka langsung terjun di dunia hotel," ungkap Yoanita.
Setelah sesi hotel tour, diselenggarakan sesi table manner. Table manner ini diadakan untuk mengenalkan profesionalitas kepada mahasiswa Perhotelan UMN.
"Kalau di dunia perhotelan itu lekat dengan professionalism jadi kalau nanti misalnya mereka diundang makan secara formal atau dinning table itu mereka sudah mengerti caranya, makan dengan manner yang tepat," ujar Yoanita.
Sementara itu, Jessica Priscilia Santoso, salah satu mahasiswi Perhotelan semester dua yang mengikuti program  Hotel Tour and Table Manner Operation batch II mengungkapkan materi yang ia dapat melalui program ini.
"Kalau hotel tour kita ada (diajarkan) housekeeping. Kalau table manner kita diajarin full-course meal. Diajarkan cara makan, posisi duduk, pakai napkin sampai cara jalan sampai ke tempat duduk," ungkap Jessica.
Menurut Jessica, program yang diselenggarakan oleh Prodi Perhotelan UMN ini merupakan program yang bagus dan bermanfaat untuk pengembangan diri.
"Karena bagi saya ini sesuatu yang baru jadi menurut saya bagus. Belajar banyak banget dan seru. Jadi di table manner ini kita  diajarkan membenarkan yang salah misalnya kebiasaan makan kita ngecap, jadi bagus untuk self-improvement juga," tutur Jessica.
Yoanita mengungkapkan harapannya bagi mahasiswa Perhotelan setelah diadakannya program Hotel Tour and Table Manner Operation Program batch II.
"Mereka kan sudah mau magang ya, harapannya supaya mereka lebih tahu di dunia professionalism di perhotelan. Bikin (program ini) mereka lebih siap ke dunia hotel," harap Yoanita.
*by Reviana Kristin – Universitas Multimedia News Service
Kuliah di Jakarta untuk jurusan program studi Informatika| Sistem Informasi | Teknik Komputer | Teknik Elektro | Teknik Fisika | Akuntansi | Manajemen| Komunikasi Strategis | Jurnalistik | Desain Komunikasi Visual | Film dan Animasi | Arsitektur | D3 Perhotelan | International Program, di Universitas Multimedia Nusantara. www.umn.ac.id