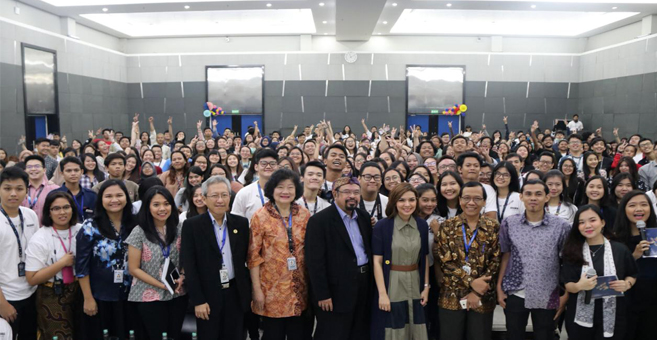 UMN TV Hadirkan Najwa Shihab dalam Acara Pembuka TELEVISIONAIR 2019
TANGERANG – Media kampus berbasis televisi streaming di Universitas Multimedia Nusantara (UMN), yakni UMN TV, menyelenggarakan acara tahunan bertajuk TELEVISIONAIR 2019 yang resmi dibuka pada Senin (4/3) di Function Hall UMN. Dalam acara pembuka, UMN TV menghadirkan jurnalis senior, Najwa Shihab, sebagai bintang tamunya pada sesi People and Stories.
Kehadiran Najwa disambut antusias oleh ratusan mahasiswa dan sivitas akademika UMN yang hadir. Antusias yang besar ini diungkapkan oleh Rektor UMN Ninok Leksono saat memberikan kata sambutan.
"Kalau ada tokoh-tokoh terkenal, sosok-sosok sukses yang hadir seperti Najwa, marilah Mahasiswa belajar mengikuti jejak tersebut. Bagaimana pasang-surutnya sehingga membuat diri kita juga menjadi sukses,"  ungkap Ninok.
TELEVISIONAIR sendiri merupakan acara yang digelar untuk menyambut ulang tahun UMN TV, yang rangkaian acaranya terdiri dari perlombaan, seminar, dan lokakarya. Pada tahun ini, tema yang diangkat adalah "Buzzing The Revolution".
Menurut Tantiana Vida, ketua panitia TELEVISIONAIR 2019, tema ini dipilih karena UMN TV ingin mendengungkan semangat perubahan dan literasi media digital melalui konten-konten kreatif, salah satu caranya lewat konten di media kampus.
"Ini yang membedakan dari tahun-tahun sebelumnya, yang temanya lebih kental dengan hard news. Kalau tahun ini ini lebih ke program-program dan konten-konten kreatif," ujar Tantiana.
"Makanya di acara pembuka ini kami mengundang Najwa, karena dia juga banyak memproduksi konten-konten kreatif di channel Youtube," lanjutnya.
Sesi People and Stories ini dipandu oleh dosen jurnalisk UMN, Veronika Kaban. Dalam sesi ini, Najwa banyak membagikan cerita dan pengalamannya selama menjadi jurnalis. Ia mengatakan jurnalis tidak boleh berhenti belajar dan beradaptasi dengan perkembangan teknologi digital.
Najwa memberi contoh tentang seorang pelukis hebat zaman dulu. Pelukis ini terkenal sangat mahir menggambar sehingga sangat mirip dengan aslinya. Namun ia memerlukan waktu yang cukup lama untuk membuat lukisan agar terlihat nyata.
Akan tetapi ketika teknologi kamera muncul, yang bisa membuat gambar lebih nyata dan dalam waktu lebih cepat, kemampuan si pelukis sudah tidak lagi relevan.
"Teknologi membuat skill kita menjadi tidak lagi penting. Karena itu kuncinya adalah bagaimana kita bisa terus keep up dengan teknologi," ujar Najwa.
Di akhir sesi People and Stories ini, Najwa Shihab membacakan 'Catatan Najwa' yang bertemakan Mahasiswa bagi para peserta seminar TELEVISIONAIR 2019.
Sesi People and Stories bersama Najwa Shihab ini ditutup dengan penyerahan piagam penghargaan dan tanda terima kasih yang diberikan oleh Rektor UMN Ninok Leksono. Setelah usai, acara dilanjutkan dengan sesi foto bersama seluruh peserta yang hadir.
Salah satu peserta yang hadir dalam acara pembukaan ini, Bella Viona Casvfrilla, mengaku sangat semangat mengikuti sesi People and Stories ini.
"Dari yang cuma bisa lihat di TV dan Youtube, sekarang bisa dengarkan langsung pengalamannya. Tadi juga sempat foto bareng. Dia orangnya karismatik banget," tutur Bella.
(*/RK)
*by Wirawan – Universitas Multimedia Nusantara News service
Kuliah di Jakarta untuk jurusan program studi Informatika| Sistem Informasi | Teknik Komputer | Teknik Elektro | Teknik Fisika | Akuntansi | Manajemen| Komunikasi Strategis | Jurnalistik | Desain Komunikasi Visual | Film dan Animasi | Arsitektur | D3 Perhotelan | International Program, di Universitas Multimedia Nusantara. www.umn.ac.id