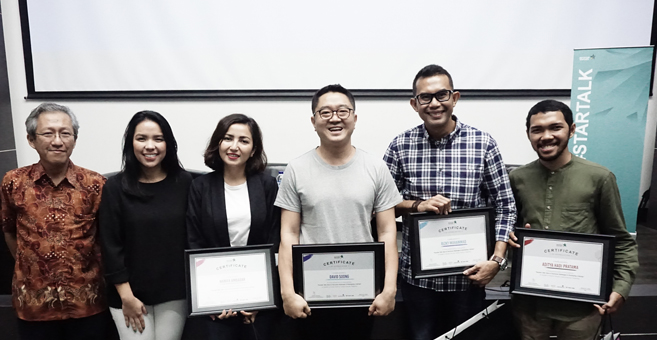 Intip Makna Tantangan bagi Youthmanual, Female Daily, dan Sweet Escape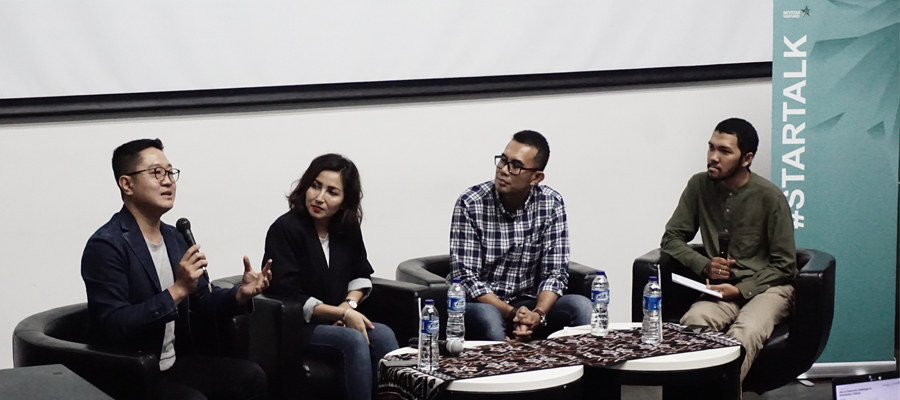 Berbicara mengenai startup, tentu sudah menjadi hal yang tidak asing lagi di Indonesia. Namun demikian, berdasarkan informasi yang dilansir Tech in Asia, ekosistem startup di Indonesia mengalami beberapa kejadian yang kurang menyenangkan pada kuartal kedua tahun 2017. Beberapa startup di tanah air memutuskan untuk mengubah model bisnis mereka atau bahkan menutup bisnis rintisannya.
Di sisi lain, terdapat pula penurunan jumlah startup yang mendapat pendanaan dibandingkan pada tahun 2016 lalu. Tidak hanya itu, menurut data yang dilansir oleh Kumparan, tercatat ada 10 startup yang tutup di tahun 2017 meskipun sudah mendapatkan pendanaan yang besar.
Melihat fenomena ini, Skystar Ventures tech incubator Universitas Mutimedia Nusantara (UMN) melalui acara StarTalk "How to Overcome Challenges in Developing a Startup" mencari tahu tentangan-tantangan apa saja yang muncul dalam membangun startup dan bagaimana cara menghadapinya. Acara StarTalk yang berkolaborasi dengan Tech in Asia ini menghadirkan Rizky Muhammad, Founder dari Youthmanual.com, Hanifa Ambadar, Founder dari Female Daily Network, dan David Soong, Founder dari Sweet Escape, Axioo Photography & Boga Group.
Baik Youthmanual, Female Daily, dan Sweet Escape, telah melewati begitu banyak tantangan sebelum akhirnya Startup mereka mendapatkan pendanaan, memiliki kantor yang besar, dan dapat menjangkau seluruh Indonesia bahkan seluruh dunia. Namun, semua itu tentu tidak terlepas dari bagaimana mereka mengelola startup, menghadapi tantangan yang muncul, serta memaksimalkan keunikan bisnis mereka sebagai kunci kesuksesan.
Tentukan Alasan
Female Daily yang kini dikenal sebagai platform review produk kecantikan terbesar di Indonesia, dan Sweet Escape yang mampu menggandeng ribuan fotografer di 400 kota di dunia, mengawali bisnis mereka karena hobi masing-masing Foundernya. Sedangkan Youthmanual yang platformnya sudah digunakan oleh lebih dari 84.000 siswa SMA dan SMK di Indoneisa, sejak memutuskan meninggalkan dunia korporat, menekankan untuk memulai bisnis dari visi yang ingin dicapai, yaitu membantu pendidikan di Indonesia.
Mulai dari Hal yang Sederhana
Masing-masing Founder juga mengaku, tantangan di awal membuat startup memang sulit. "As Entreprenurs, we face challenges just like breakfast, lunch, and dinner", papar Hanifa, Founder Female Daily Network. Ia juga mengaku harus memulai kantornya di ruangan yang sangat sempit, banjir, dan bocor di bilangan Jakarta. Namun, eratnya komunitas di Female Daily membuat Hanifa terus semangat. Komunitas inilah yang menjadi keunikan Female Daily untuk mampu berinovasi dan mencukupi kebutuhan pasar.
Satukan Visi
Berbeda dengan David, Founder Sweet Esacape, tantangan terbesar yang harus dihadapinya adalah menemukan fotografer yang memiliki visi yang sama dengannya. "Budaya setiap negara berbeda-beda, dan menemukan fotografer yang bisa 'serve from the heart like you' itu sangat stressfull", ungkapnya. Untuk itu, Sweet Escape menerapkan sistem kurasi kepada setiap fotografer. Dari ribuan fotografer yang mendaftar, hanya kurang dari 5% yang diterima. "Hal ini dilakukan karna penting juga untuk memperhatikan customer experience saat mereka melakukan sesi foto", tambah David.
Bersahabat dengan Tantangan
Sedangkan Rizky, Founder Youthmanual, menghadapi tantangannya dimana ia harus berhadapan dengan generasi Z. "Sebagai single founder, saya rela mempelajari programming, ilmu psikologi, serta cara menghadapi millenials", tutur Rizky. Uniknya, Rizky malah menggandeng para lulusan SMK untuk bergabung di tim Youthmanual. Dengan demikian, ia merasa dapat lebih dekat dengan solusinya, karena dapat setiap hari berhadapan langsung dengan calon customernya.
Pemaparan ketiga Founder sukses tadi telah membuktikan bahwa tidak ada startup yang tidak berhadapan dengan tantangan. Mereka juga sepakat bahwa tantangan dan kompetisi itu perlu untuk menciptakan peluang baru. Selain itu, berkat tantangan daya juang seorang Founder justru akan meningkat.
Sebagai penutup, baik Rizky, Hanifa, dan David, menyarankan kepada para Founder untuk tidak takut menghadapi tantagan, serta memulai startup sedini mungkin. "Lakukan sesuatu yang dapat menciptakan value dan meaning untuk kehidupan orang banyak. Dengan begitu, kita juga akan mendapatkan kebahagiaan dengan melihat hasilnya", tutup David.*
Referensi: http://www.skystarventures.com/intip-makna-tantangan-bagi-youthmanual-female-daily-dan-sweet-escape/
Kuliah di Jakarta untuk jurusan program studi Informatika| Sistem Informasi | Teknik Komputer | Teknik Elektro | Teknik Fisika | Akuntansi | Manajemen| Komunikasi Strategis | Jurnalistik | Desain Komunikasi Visual | Film dan Animasi | Arsitektur | D3 Perhotelan | International Program, di Universitas Multimedia Nusantara. www.umn.ac.id