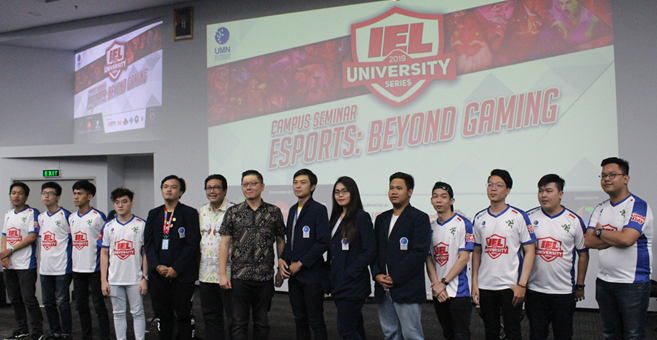 Cabang Olahraga Baru, E-Sport, Mulai Diperkenalkan Di UMN
TANGERANG – Dalam rangka memperkenalkan e-Sports dari kampus ke kampus, Indonesia e-Sport League (IEL) University 2019 Series menggelar seminar di Universitas Multimedia Nusantara (UMN) bertemakan "Esports: Beyond Gaming".
UMN adalah salah satu dari 12 kampus yang menjadi peserta di IEL University 2019 Series. Liga ini didukung oleh Kementrian Pemudan dan Olahraga (Kemenpora), Federasi Olahraga Rekresi Masyarakat Indonesia (FORMI), Indonesia Esports Association  (IeSPA), dan Federasi Esports Asia (AeSF). Seminar dihadiri oleh beberapa pihak dalam bidang e-Sport salah satunya Ketua Umum Indonesia e-Sport Association (IeSPA), Eddy Lim.
Eddy menjelaskan kepada para peserta seminar bahwa e-Sport berbeda dengan bermain game online. Walaupun terlihat seperti hanya memainkan game online, cabang olahraga terbaru ini juga membutuhkan fisik dan otak yang prima. E-Sport melihat permainan game online sebagai olahraga karena memiliki tujuan dan keahlian analisis strategi demi mengalahkan lawan.
"E-Sport adalah bagian dari olahraga. Kebetulan yang ditandingkan adalah game. Tapi beda dengan kalau kita main game. Jika kita mau jadi atlet e-Sport 50% itu sebenernya adalah latihan fisik. Kita dituntut 100% mengeluarkan kemampuan kita memikirkan strategi. Supaya daya tahan kita bisa lama dan konsentrasi bisa lebih lama, Nah itu diperlukan badan yang fit dan badan fit ini hanya satu cara yaitu olahraga fisik," jelas Eddy.
Ia juga berusaha meluruskan anggapan yang salah tentang e-Sports. Durasi yang lama tanpa adanya strategi bukan cara yang efektif untuk meningkatkan keahlian. Justru, durasi yang dibatasi, analisis strategi serta istirahat yang cukup bisa meningkatkan keahlian kita dalam bermain game online.
Selain pemaparan dari beberapa pihak e-Sports, juga ada beberapa sesi tanya jawab dengan Mobile Legend pro player, Kido, Dota 2 coach & former pro player, Farand Koala, dan caster & influencer, Clara Mongstar. Mereka berusaha menjawab pertanyaan seputar e-Sports dari sudut pandang pemain, pelatih bahkan caster.
Bagi mereka yang tertarik untuk bergabung ke dalam sebuah klub e-Sport, Farand dan Kido menyarankan untuk meningkatkan keahlian dan juga relasi. Di sisi lain, mereka yang berminat menjadi caster mulailah mempelajari latar belakang para atlet e-Sport dan perkembangan game online.
Di UMN sendiri baru saja terbentuk komunitas e-Sports bernama UMN e-Sports yang diketuai oleh Andrew Salim. Andrew membentuk komunitas ini karena melihat perkembangannya di Indonesia dan ingin menunjukkan sisi lain dari gaming.
"Ya intinya gue ingin memajukan e-Sports dikalangan kampus. Jadi ga semata-mata main game itu buang-buang waktu. Ngga semua gamer buang-buang waktu, lebih tepatnya kita harus mengembangkan dunia perdigitalan saat ini. Ya e-Sports ini salah satu yang lagi maju di Indonesia. Gue melihat UMN punya potensi dan terbentuklah komunitas ini," ujar Andrew.
Ia juga mengatakan bahwa saat ini komunitasnya telah menetukan 10 pemain yang akan bertanding di IEL University 2019 Series. 10 pemain ini nantinya akan dibagi menjadi dua tim, yakni tim untuk permainan Defense of the Ancients (Dota) 2 dan Mobile Legend.
*by Alya Dwi Achyarini – Universitas Multimedia News Service
Kuliah di Jakarta untuk jurusan program studi Informatika| Sistem Informasi | Teknik Komputer | Teknik Elektro | Teknik Fisika | Akuntansi | Manajemen| Komunikasi Strategis | Jurnalistik | Desain Komunikasi Visual | Film dan Animasi | Arsitektur | D3 Perhotelan | International Program, di Universitas Multimedia Nusantara. www.umn.ac.id